This article is more than 1 year old
Billionaire floats eco dream on sailing soda bottles
Plastiki and the 100% recyclable yacht
Like no boat ever built
Indeed, the Plastiki will be unlike any oceangoing boat ever built, mainly because 100 percent of the materials it's made of is recyclable. Because seaworthy vessels must be both extremely light and strong, most are made of fiberglass-reinforced polymer, a compound that's not recyclable at all.
Today, when boats are decommissioned, their hulls have to be discarded. De Rothschild envisions a day when old boats are disassembled and their raw materials are melted down and used to make new boats. If de Rothschild's dream floats, the process would be extended to car door panels, medical equipment, and thousands of other items that today are made from single-use plastics.
The special sauce that makes Plastiki recyclable is a polymer known as srPET, short for self-reinforcing polyethylene terephthalate. It's made from the same PET used to make soda bottles - except it's processed into a woven fiber mat that possesses unusual strength for a plastic, thanks to its two-dimensional strands, which act like self-reinforcing beams in a house.
Two woven srPET mats - which in their raw form look like cloth napkins - are heat-bonded to the top and bottom of PET foam boards to create structural "sandwich" panels with strength-to-weight ratios unattainable in the foam boards alone. The result is a self-supporting material with the strength and lightness approaching those of fiberglass or carbon fiber.
But because the PET isn't commingled with other substances, it's also fully recyclable, unlike those latter two compounds.
The sandwich panels connect the pontoons and support the deck of the boat. The pontoons themselves will be composed of 12,500 soda bottles that de Rothschild has insisted be externally visible. They are pressurized by dropping 12 grams of dry ice into each one and then sealing it. After the carbon dioxide reverts by to a gaseous state, the ultra-light container is virtually unbreakable, or at least strong enough to be run over by a Land Rover sport utility vehicle. (It can still be punctured by a sharp object).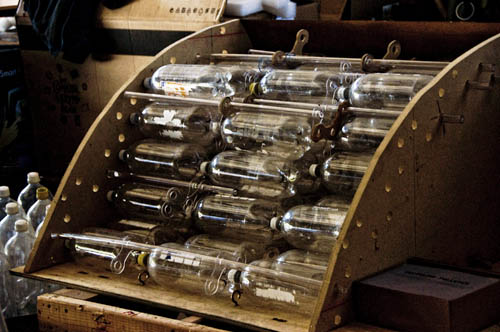 A panel holding bottles to be loaded into the ship's hull.