This article is more than 1 year old
Billionaire floats eco dream on sailing soda bottles
Plastiki and the 100% recyclable yacht
Plastiki's distinct disadvantages
While aiming to be wholly recyclable, Plastiki's unique design brings some distinct disadvantages to the catamaran. The exposed soda bottles and lack of a traditional hull mean it will probably never be able to travel upwind or during strong storms, and the drag that's expected will likely be much greater than most vessels experience. Its maneuverability is also expected to be limited.
"This is going to be very different sailing a boat with the bottles tightly exposed," said Jo Royle, the skipper who de Rothschild has hired to pilot Plastiki. "The material has different properties than fiberglass and wood and carbon fiber, so it'll be interesting to see how it behaves in the water."
As is now characteristic for the project, only a crude prototype of the boat has been tested, so no one knows for sure.
From the beginning, Plastiki was never about building the fastest or sturdiest boat. Rather, its mission has been to raise awareness about the perils of single-use plastic and to promote alternatives that will be viable in the marketplace.
An heir to the English branch of the Rothschild banking dynasty, the 31-year-old de Rothschild has applied his considerable fortune to activities that pursue a unique blend of outdoor adventure, environmentalism, and education. He's traveled to both the South and North Poles, making him one of only a few dozen people known to have traversed both ice caps. He also owns an 1,100-acre organic farm in New Zealand.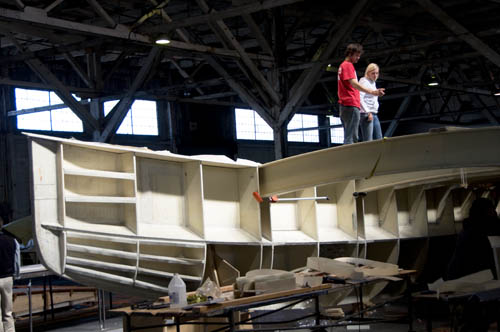 One of Plastiki's pontoons takes shape