This article is more than 1 year old
Billionaire floats eco dream on sailing soda bottles
Plastiki and the 100% recyclable yacht
Eastern Garbage Patch - like Nature's toilet
The genesis of his latest project came in 2006 as de Rothschild was planning a four-year sailing trip and he read an article about the "Eastern Garbage Patch," a floating vortex of bottles, fish nets, and other plastic debris located between California and Hawaii and estimated by some to be twice the size of Texas.
Also known as the Great Pacific Garbage Patch, it was most prominently recorded by California sea captain Charles Moore, who first encountered it in 1997 as he was sailing to Los Angeles. With help from oceanographers, he has since documented how a large system of wind-driven currents called the North Pacific Gyre acts as a giant whirlpool that sucks discarded plastics from the western US, Mexico, China, and Japan, as well as from ships at sea.
"As I gazed from the deck at the surface of what ought to have been a pristine ocean, I was confronted, as far as the eye could see, with the sight of plastic," Moore wrote in an essay published in 2003 in Natural History. "It seemed unbelievable, but I never found a clear spot. In the week it took to cross the subtropical high, no matter what time of day I looked, plastic debris was floating everywhere: bottles, bottle caps, wrappers, fragments."
Moore's writings had a powerful effect on de Rothschild, who is prone to citing figures from the National Academy of Sciences estimating that 5 million tons of additional plastic makes its way into the world's oceans each year.
"We've got this voracious appetite for plastics, but we're being driven down a path of single-use plastics because we don't really understand the value," he said. "I don't believe that plastic is outright the enemy. I think there's a big bundle of plastics that are the enemy, and they're just dumb and they are creating human fingerprints on our planet."
Plastiki is modeled after Kon-Tiki, a raft made of balsa wood that Norwegian explorer Thor Heyerdahl sailed 4,300 miles across the Pacific in 1947. Besides its novel use of recyclable PET, de Rothschild's boat will be equipped with an assortment of green-technology amenities, including solar panels, trailing turbines, and stationary bikes for electricity, a desalinator for drinking water, a hydroponic garden, and a mast and sail made of irrigation pipe and post-consumer plastic. It also has a compostable toilet and will store all the crew's feces and urine in the hull where it will be converted to fertilizer.
The crew cabin is a geodesic dome that's 20 feet long and six feet high, four inches shorter than de Rothschild is tall. It was designed with help from a group called Architecture for Humanity. De Rothschild envisions similar structures could one day form the blueprint for modular relief shelters for low-lying areas such a Tuvalu, which some scientists believe is threatened by the steadily rising sea level.
"We're going to communities where becoming an environmental refugee is a serious possibility in the next, five, 10, 15 years," he said.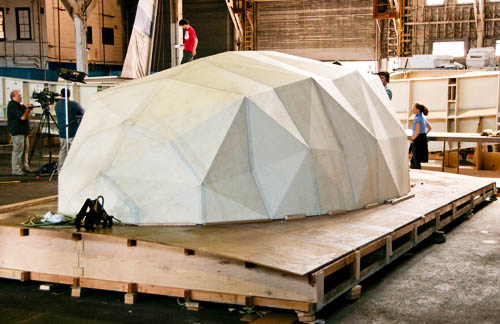 Plastiki's partially completed crew cabin