This article is more than 1 year old
Billionaire floats eco dream on sailing soda bottles
Plastiki and the 100% recyclable yacht
With a little help from HP
When the boat sets sail, de Rothschild plans to provide regular updates on the journey using a video camera mounted to boat's mast, a satellite transmitter and the official Plastiki website.
When all is said and done, the project will probably cost several million dollars, a sum that is partially being offset by corporate sponsors such as HP. While HP is equipping Plastiki with free PCs and other wares, de Rothschild said the real value of the partnership is the opportunity to nudge the technology behemoth in a more environmentally responsible direction.
"If we can influence a company like HP to maneuver its purchasing of certain material for its packaging from styrofoam to a biodegradable or biocompostable material for 50 million units a year, we as a very small organization have created a disproportionate impact, and that's what this is about," he explained.
IWC Schaffhausen is also involved in the project with a limited edition watch in observance of the Plastiki voyage.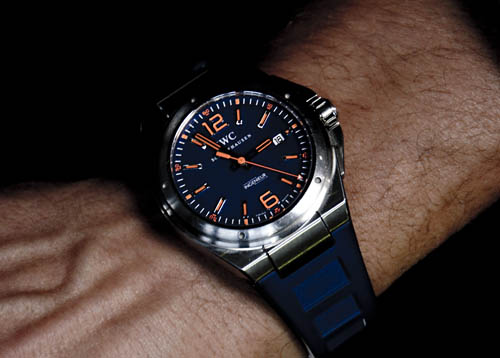 IWC Schaffhausen designed this watch in observance of the Plastiki voyage
"There's a lot of organizations out there pointing fingers. For us, what we're very good at doing is creating conversations pulling people together and hopefully using that to inspire action."
Not that the Plastiki participants don't have plenty of work left if they are to revolutionize the way ships and other items are built. Right now, working with the srPET requires heating the fabric to about 400 degrees Fahrenheit, which they accomplish using carbon-producing catalytic heating elements.
The group hopes one day to employ less carbon-intensive sources of heat, such as a parabolic solar ovens or Stirling engines. For now, they are buying carbon credits instead.