This article is more than 1 year old
Billionaire floats eco dream on sailing soda bottles
Plastiki and the 100% recyclable yacht
Some disarray
They also acknowledge some disarray in getting the project off the ground. De Rothschild initially insisted the boat be built entirely out of reclaimed materials, so they initially settled on recycled plastics such as ecosheet and ecoboard, which are made from a variety of polymers reclaimed from electronics, bottles, and other materials. After buying a large quantity of the materials, they eventually discovered they were unsuitable in almost every conceivable way.
One - Plastiki expedition coordinator Matthew Grey doesn't recall which - was almost as dense as lead, and yet it also bent like chewing gum.
"It was largely a turning point in the project when we pretty much realized that our ambition of making the structure of this boat entirely out of reclaimed plastic was unrealizable," he said.
After settling on srPET made from virgin plastic, the objective was revised to invent a manufacturing process that yields a boat whose raw materials are wholly recyclable, effectively creating a closed loop where the plastics, once introduced, can be reused indefinitely rather than having to be created anew for each new vessel.
But not every polymer expert is so optimistic. While they generally agree that srPET is fully recyclable - and holds great promise for changing the way boats, cars, and other items are built - some question Grey's promise of completely closing the loop.
"Any time plastic goes through a processing, a heating up and a cooling down, the molecular chains do get broken or damaged, so it doesn't have an infinite reprocessing life," said Terry L. Schwenk, a plastics expert with consultant Process & Design Technologies. "You can reclaim and reuse it, but most certainly, you can not melt the whole thing down and have the same properties as the original."
Charles F. Pratt, a plastics expert with Pratt Materials Consulting in Seattle, agreed.
"You're always going to have to put into that circle some virgin materials at some point," he said. "I don't think you can ever get a full closed loop system, but certainly the idea of raising awareness of the need to recycle and (for) sustainability...is a great effort."
From its outset, the project has had a seat-of-the-pants quality that's led to its share of dead-ends and delays. The inquiry into the suitability of srPET consisted largely of home experiments, in which the material was cooked in ovens at almost 400 degrees.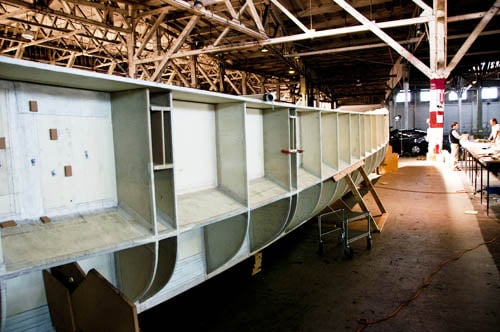 Plastiki's bow
And in addition to changes in personnel and objectives, it's no longer clear if Plastiki will visit the Eastern Garbage Patch, as was once the goal, since to do so would probably require the craft to sail upwind. De Rothschild, who had wanted to visit the patch to increase mainstream awareness of it, seemed unfazed at the change arguing that "our entire ocean system has become a dumping ground for waste."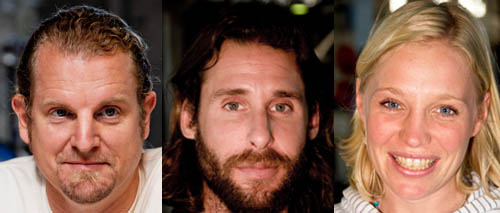 From left, architect Nathaniel Corum, David de Rothschild and skipper Jo Royle
But the improvisational nature has also brought a flexibility that has allowed the project to continue despite the formidable barriers it's encountered.
"It's a bold way to test something new," said Nathaniel Corum, an architect who was introduced to srPET when he started working on the Plastiki's six-person cabin. "It's a landmark material. If it works, it's going to put PET on the map." ®