iRiver Story
Best in class e-book reader?
Review While the price and diversity of e-book readers is still some way off achieving the sort of critical mass that put an MP3 player in nearly pocket, the number of devices appearing on the market is increasing at a healthy rate.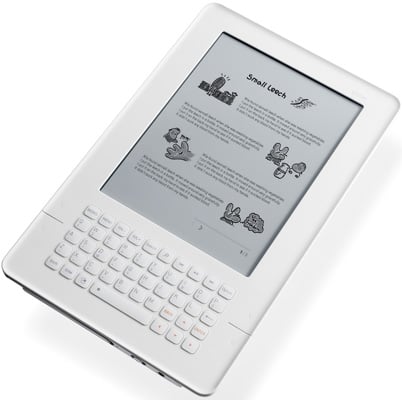 A good read? iRiver's Story
While not exactly a household name here in the UK, iRiver can usually be relied upon to cook up a quality product that's a little different from the norm. Entering the e-book reader market with the Story, this all-white device looks a lot like Amazon's Kindle. On more careful inspection its obvious the similarities are simply down to the colour and the presence of a full Qwerty keyboard below the 6in electronic paper screen, rather than any shared heritage.
At 127 x 203.5 x 9.4mm and weighing 284g the Story is par for the e-book reader course. Even if the white plastic case lacks the cool, machined finesse of Sony's aluminium Readers, it still has a solid and substantial feel to it and will only flex or groan when subjected to some pretty severe torque.
The Story is heavily tapered on three sides with only the bottom having a flat surface. This is home to a 3.5mm headphones jack, the on/off switch, mini USB and SD card slots – the latter two being concealed by a plastic flap in typical iRiver style. The SD card slot requires just a little too much in the way of push to get the card to sit. Fine if you have long fingernails, a bit of a pain if you don't.
Like Amazon, iRiver has done a service to both the left and right handed users by duplicating the page turn keys that sit next to the keypad and form part of the fascia on both sides of the unit. For one-handed use though, the page turn keys could have done with being placed a few centimetres nearer the top.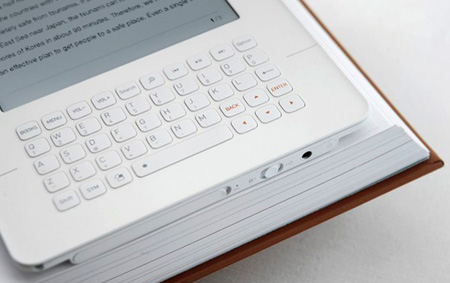 Interfacing includes SD card expansion
The keyboard itself is well designed and built. The keys are well spaced and have a firm and pleasant action making it look and feel a bit like the best keypads from HTC. The majority of the Story's controls sit together in a row above the letter keys, while four arrow keys for navigation along with the Back and Enter keys are grouped together at the bottom right hand corner of the keyboard.