Nokia E72 smartphone
BlackBerry liquidiser?
Nokia's still using a 2mm connector to charge the E72 – but the good news is that it will also charge using the micro-USB connector, albeit not as quickly. In our first tests, the battery lasted two days initially, though that was with a lot of software installation, plenty of Bluetooth transfers and concerted testing of all the features.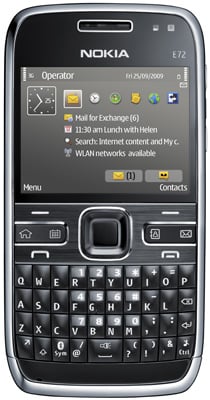 No touchscreen, but is versatile and responds swiftly
In more normal use, a day and a half including maps usage, calls, e-mails, Wi-Fi and photography saw a drop from full to around two thirds – which is not surprising, given the large 1500mAh battery. There's a power-saving mode, too, which should eke things out even more. With this mode turned on – after the display showed we were down to one bar – we managed a total of 75 hours before needing a recharge.
It's fashionable in some quarters to knock Nokia and Symbian, but when it comes to producing a business phone, they can still show some of the competition a thing or two. The E72 is compact, feels solidly built, and responds fast to commands.
Verdict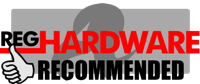 It may not have all the high-end multimedia features of some handsets, but the E72 does offer excellent battery life, good call quality, proper integration of VoIP, reasonable diary and office features, and a decent keyboard. If those are more important to you than the latest touch screen loveliness, then the E72 is definitely worth a serious look. ®
More Qwerty Smartphone Reviews...

Motorola
Dext
MB200

Palm
Pre

Samsung
GT-C6625

BlackBerry
Curve
8520

Nokia E72 smartphone
A responsive good all-rounder with useful business-orientated features and a good battery life.