Analysis Facebook's recently introduced vanity URLs may be a handy function for many, but the offer to distinguish users' profiles with names rather than numbers is not unconditional.
Defence systems engineer David Lloyd was pleased to be able to adopt the nickname 'squaresheep' to distinguish his Facebook profile from those of the many others who share his given name. He had used the nickname for years on the likes of Hotmail and Skype, but found on logging into Facebook last weekend that the moniker had been taken off him and handed over to squaresheep.com, a US-based cooking website established only last year.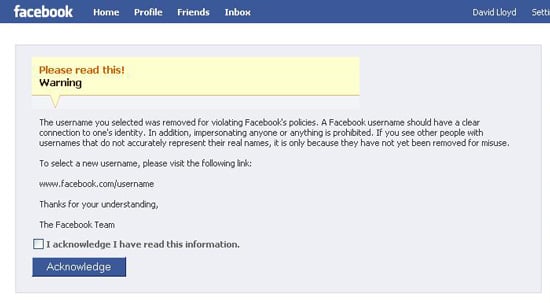 Squaresheep gets shorn
Facebook told Lloyd that the vanity URL had been taken away from him because it violated its terms and conditions. Lloyd was still able to log into his Facebook profile using a registered email address and password combination, but was put out at the fact he was given no opportunity to contest the handover.
A representative for Facebook explained that the use of 'squaresheep' by Lloyd violated its terms of service because the name had no relation to Lloyd's real name. Facebook wasn't saying whether it had acted in response to a complaint from squaresheep.com, the cooking site, which is yet to clarify its side of the story.
Lloyd told us he now regrets his failure to register the squaresheep.com domain before someone else made use of it. He explained that he used the Facebook profile to send messages to friends, who will now have to search him out among the many David Lloyds that maintain profiles on Facebook.
"I realise that it is only my vanity URL that has gone and that I can still log in to Facebook as normal (I would be seriously hacked off if the whole profile had gone!) but, y'know, it still hurts," Lloyd told El Reg.
"It is rather ironic that Facebook have stopped me from using squaresheep when I had to choose a name like that in the first place because my real name, David Lloyd, is not only shared with thousands of other people but is also a trademark of David Lloyd Leisure Ltd."
Lloyd challenged Facebook's rationale for yanking the squaresheep identity on the social networking site (see here).
"As far as I could tell, there appeared to be no way to question or appeal the decision by Facebook to give ownership to squaresheep.com. As I have had the squaresheep moniker (although never a website) for a decade I believe that it has "a clear connection to my identity" and I am not setting out to impersonate or denigrate squaresheep.com in any way (before the weekend, I had no idea they existed). I just think that Facebook (and possibly squaresheep.com) have been a little heavy-handed and uncommunicative."
Dai Davis, a experienced IT lawyer at solicitors Brooke North, likened Lloyd's problems with the squaresheep identity to a domain name dispute, with some differences.
"Using an identity that might be trademarked as individual address is not trademark infringement," Davis explained. "The difference comes when the identity is being used for trade purposes, which it appears didn't happen in this case."
"Facebook response to disputes about vanity URLs depends on its terms and conditions, which users sign up to when they join the service and act as a contractual overlay." ®
Similar topics