Fujitsu gung-ho on eight-core 'Venus' Sparc
Tofu super glue
---
SC09 Is Japan's 10 petaflops supercomputer on the chopping block? Fujitsu won't say. But it's still bullish on the Sparc chips meant to drive the thing.
The word out of Japan last week was that a budget-cutting panel was recommending that the government cut back on its supercomputer spending habit, with the $1.2bn "Project Keisoku" in danger of extinction. But Japanese chip and server maker Fujitsu was mum about all that. It had other stuff to talk about.
Its techies showed off a wafer packed with the "Venus" eight-core Sparc64-VIIIfx processors that El Reg told you about back in May, just before vector supercomputer makers NEC and Hitachi backed out of the Project Keisoku contract, an effort to build a hybrid scalar (Sparc) and vector (a variant of the SX engine from NEC) supercomputer rated at 10 petaflops.
The Rikagaku Kenkyusho (Riken) research lab in Kobe, Japan eventually decided to put a Sparc-only massively parallel box in the field by early 2012. Fujitsu was thrilled with this, considering that making a 10 petaflops box out of processors rated at 16 gigaflops per core (as the Venus chip is) would require 78,128 of the processors, for a total of 625,024 cores. You can bet that Fujitsu was not looking at an order anywhere near that big before NEC and Hitachi pulled out of the Project Keisuko deal.
Sun's mob-style killing of its "Rock" UltraSparc-RK was more good news for Fujitsu's Sparc64 chip. Once again, Sun won't have a high-end Sparc chip of its own.
Small wonder that Fujitsu's top brass was confident that business was going to pick up in 2010.
Fujitsu's Venus blade server nodes (left) are water-cooled, as is becoming the rage in the HPC area as they learn from modern gamers and their water-blocked CPUs and GPUs and from mainframes and supers from eons ago. This particular blade has four processor sockets, for a total of 32 cores, providing 512 gigaflops of number crunching power. Each socket has eight channels of DDR3 main memory, providing 64 GB per socket.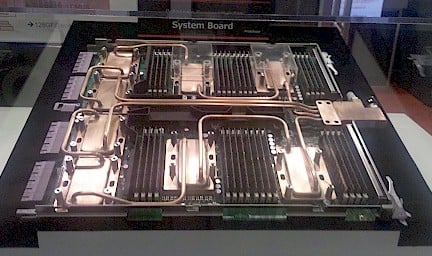 The Fujitsu "Venus" Sparc64-VIIIfx system board
You can see why some people are excited about "Fermi" Tesla 20 cards from Nvidia, considering they will have a bit more power than this in a much smaller form factor when they hit the market in the second quarter of 2010.
The four chips on the right that are also water-cooled are for the Fujitsu interconnect, which is called "Tofu" and which implements a 6D mesh/torus that can scale up to 10 petaflops, or 19,523 nodes. There seems to be one Tofu interconnect chip for every processor socket, but it is not clear what the relationship is to create the 6D mesh/torus.
What seems clear is that hopping across such a machine is going to burn up plenty of time (and maybe warp the fabric of spacetime, but no more so than the LHC, so no worries) and Fujitsu is going to have to be plenty crafty to get applications to scale on so many nodes so widely separate from each other. (If you want to shell out some money, you can pay the IEEE $19 for a story on the Fujitsu Tofu interconnect here or you can wait a few days and I will give you the scoop for free once I get the proper Fujitsu techies on the horn).
Before we can find out how well Venus and Tofu will perform together, Fujitsu must lobby to keep Project Keisoku alive. ®
Similar topics
Broader topics