AMD's answer to arch-rival Intel's CULV - Consumer Ultra-Low Voltage - processor series is making its way into laptops. MSI has just taken the wraps off the Wind 12 U230, a 12in machine based on two of AMD's 'Congo' chips.
The parts' go-to-market name are the Athlon Neo MV40 and the Athlon Neo X2 L335, being single- and dual-core chips, respectively.
The U230 uses AMD's RS780MN chipset, which has an ATI Radeon HD 3200 graphics core built in to drive the notebook's 1366 x 768 display. The computer also contains up to 4GB of 667MHz or 800MHz DDR 2 memory, depending on model, and between 160GB and 320GB of hard drive storage space.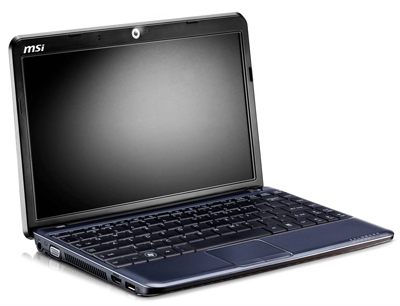 MSI's Wind 12 U230: sounding a bongo for Congo
Buyers will all get a 1.3Mp webcam, four-in-one memory card reader, Gigabit Ethernet, 802.11n Wi-Fi, VGA, HDMI and a trio of USB 2.0 ports. Some will get Bluetooth, others won't - it depends on where they buy their U230.
Some SKUs will ship with three-cell batteries, others with six-cell power packs.
"Testing proves that the Wind 12 U230, using a power-saving mode setting, can be used for up to four hours so you can enjoy an extended, high performance mobile experience," said MSI. So no challenge for the CULV-based Acer Aspire Timeline 1810TZ, which will deliver well over eight hours' battery life on ordinary settings. We know, we've just tested it.
Alas, there's no word yet on when the U230 will arrive in the UK, or how much it'll set you back when it does. ®