This article is more than 1 year old
Panasonic DMC-GH1 Micro Four-Thirds camera
HD video with a super smooth lens, what's not to like?
By design, the DMC-GH1only offers electronic 'Live' view – there's no reflex mirror to flip up. Consequently, its size and weight makes you feel like you are holding a big compact, as it is a light, inconspicuous, go everywhere camera that feels well-balanced when married to its 14-140mm zoom lens.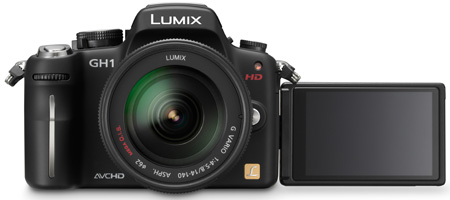 This versatile LCD Live view panel allows you to work in very tight situations
The DMC-GH1 shoots video in two flavours: AVCHD and MJPEG. This is genius. When wanting something you can share with anyone with a computer you shoot the MJPEG MOV 720p with a frame rate of 30p. When you are thinking you might make a Blu-ray out of your shoot and want the best quality available, you can choose the AVCHD 25fps 1080p option. You could even try the special effect attributes of 720p at 50 fps, which records faster moving objects more crisply or can deliver great slow motion when used on a 25fps timeline.
The DMC-GH1 does make beautiful moving images at any size, even down to the MJPEG 320x240 preset. AVCHD (H.264) is a fine acquisition and delivery format, just don't try editing it without transcoding it into something else first. This may slow users down enough to put them off, but persistent ones will find their way and love the smaller file size on card that is half that of MJPEG.
Another well-implemented feature here is the flip out LCD screen, not a first, but it does 270° round and 180° out, in a way that is intuitive and works well even in bright sunlight. You can shoot impossibly low, and over people's heads and still have a very accurate compositional chance. Using the viewfinder alternative is strangely similar to that 'analogue' image on DSLRs, but just a bit too vivid. Having tried the flip-out LCD screen there seemed little reason to go back, apart from saving battery life perhaps or when you'd like people to think you are just taking stills. Beware the quiet ones who don't take the camera from in front of their faces.
Serious filmmakers will use everything in manual mode, including the focus and exposure, and, thankfully, everything can be locked. The average buyer will more than likely opt for various auto options to ensure they capture the event. Indeed, this appears to be the only camera to offer continuous autofocus and face detect whilst recording video – a real nod to making a product that rivals present camcorder technology, with the only downside being the maximum recording length.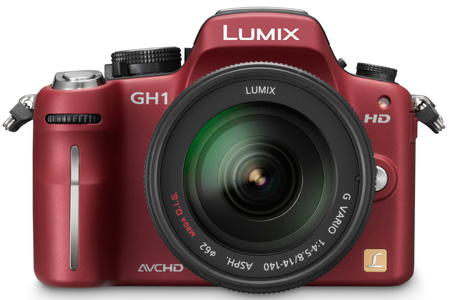 The supplied lens is designed for smooth, quiet autofocus operation when filming
Hard disk camcorders can go for 15 hours, but still cameras with video, such as the DMC-GH1, when sold in the EU are restricted to 29mins 59 secs. MJPEG has a 2GB file size limit too. However, most things we record nowadays, apart from presentations and school plays, are attention-sensitive, down to 10 mins or less – certainly the case in storytelling with movies. Regarding storage, even though Class 6 is recommended a Sans Disk Class 4 SDHC recorded AVCHD quite happily, though.