This article is more than 1 year old
Panasonic DMC-GH1 Micro Four-Thirds camera
HD video with a super smooth lens, what's not to like?
Flash is good for about 2.5m and features the usual red-eye reduction, slow synchro w/red-eye reduction and off. Flash exposure compensation has a ±2 EV range in 1/3 EV increments – quite a professional feature. Exposure too, has similar fine-tuning and bracketing that can be applied over three, five or seven frames. Good to see, but this is maybe a hang over from the days of film, as it's unlikely 1/3 EV difference either side could be detected on most people's dusty monitors.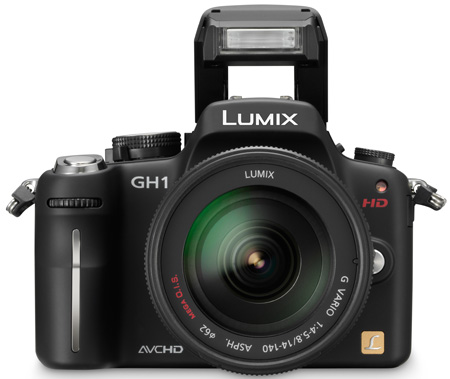 A pop-up flash is there if you need it
When used with studio flash the DMC-GH1 produced very accurate colours – a little too sharp, but easy enough to tone down in the options. Firing a radio trigger off the hotshoe, the shutter sync was a very respectable 1/160th. Still, you should be able to go higher than that given that this camera has no mirror mechanism. Indeed, rather than go above ISO 800 on this camera, use a tripod or a wall if a slow shutter is needed or resort to flash. The sensor is a reasonable size, but it is still going to get a bit de-saturated and impressionistic up at ISO 1600.
The camera's sensor can be set to shoot at four different aspect ratios for stills – 4:3, 3:2, 16:9 and 1:1. Serious users will want to use all of the sensor and avoiding cropping but others wont touch their pictures before they are printed, so these are artistic choices. Of course, the DMC-GH1 shoots RAW as well as numerous JPEG sizes, so almost all white balance issues can be processed later using the supplied Silkypix Developer Studio 3.0 SE software for and Mac and Windows. With a mini-HDMI connector, HDTV playback of video and images can be viewed but you can't see live HD direct from the camera.
The lens is not amazingly fast in light terms, being much better at the wide-angle end of things. However, it's not cheap either and contributes a large part of the cost of this kit. Having said that, it is a great piece of engineering. The only downside is the current choice of lenses that are compatible with all aspects of video capture on this camera. Once this is extended, this camera system will be used in a lot of tight spots that are beyond the reach of 'proper' movie cams. Indeed, the DMC-GH1 proved its worth whilst working on the Howard Jones music video Soon You'll Go and was given the task of the crane view shots shown in the samples page.
Verdict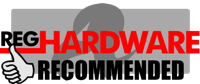 The Panasonic DMC-GH1 shoots very pleasing stills with excellent metering, yet where it excels is in being able to offer filmmakers something very cheap in comparison to pro video cameras with larger sensors. It features several frames rates and very acceptable audio for syncing which is perfectly useable for grab interviews. But the mastertroke is the two format video recording: the snatch and grab MJPEG 720p and the camcorder-quality 1920x1080 25p AVCHD.
This camera stole a march on its very new rivals, the Nikon D300s and Canon EOS 7D, so now the choice will be more about the lenses you already own, or intend to own. Given the big names behind the Micro Four-Thirds system, it looks like it's here to stay. So, if you have an inkling for filmmaking, and are prepared to grow with this new format, then the DMC-GH1 is the camera for you. ®
James Cumpsty is a professional photographer and videographer working in the music industry.
More Camera Reviews...

Olympus
PEN E-P1

Canon
EOS
5D Mark II

Sony
Cybershot
DSC-HX1

Nikon
D5000

Panasonic DMC-GH1 Micro Four-Thirds camera
Light-weight and compact it performs well in tight spots and takes good looking footage, if you can work with the codecs. Currently, it could do with more lenses, but others are bound to come.
Price:
£1275 with 14-140mm lens kit RRP