Review So you want a small notebook, but you're put off by the average netbook's puny graphics, relatively low res screen and limited-horsepower Atom processor. What do you do?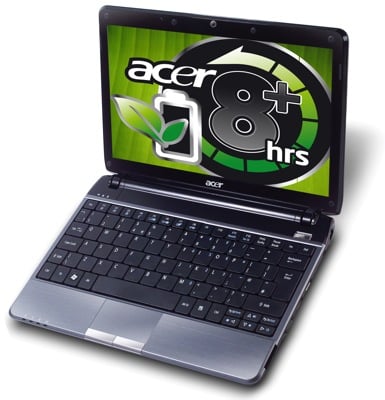 Acer's Aspire Timeline 1810TZ: big name, small notebook
We think you could do a lot worse than Acer's Aspire 1810TZ. Sony's skinny and compact Vaio X is nice, but it's not cheap. Acer's alternative is a wee bit more bulky, but since it's on sale for around £450, it's considerably less expensive.
The 1810TZ is part of Acer's Timeline series of long-endurance laptops, so it's also a good long runner.
But we're getting ahead of ourselves. The 1810TZ is a kind of netbook-plus. Its size suggests a netbook - its 285mm width is set more by the large keyboard than by the 11.6in widescreen, LED-backlit display - but it has a dual-core Pentium SU4100 processor clocked at 1.3GHz and 3GB of 800MHz DDR 2 memory.
The Pentium is a Core derivative rather than one of Intel's old notebook CPUs, so it delivers a reasonable lick of performance - certainly for the kind of apps you'll be running on a portable with a relatively small screen. It's a 45nm chip that's essentially the same part as the Core 2 Duo SU7300 found in the Samsung X520 we reviewed earlier this week. The SU7300 has 3MB of "smart" cache, according to Intel; the SU4100 has 2MB of cache - ordinary, presumably. The Pentium lacks SSE 4 support, too. You'll see from the performance numbers, the missing megabyte of cache makes a small difference.
Another difference, this time to a typical netbook: the display is 1366 x 768 rather than 1024 x 600, so you have a decent amount of space to work in. Of course, that's fewer pixels vertically than 1280 x 800, the typical resolution of low-end laptops until vendors got the 16:9 aspect ratio bug. You will notice those missing 32 pixels if you're used to a screen with a higher resolution. And, yes, it's a glossy screen, though we like it.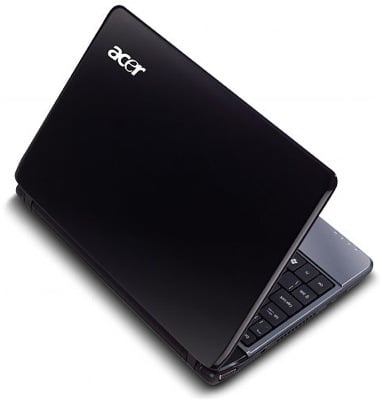 The thick glossy lid protects the glossy 1366 x 768 screen
The screen is driven by Intel's GMA 4500MHD graphics core integrated into the GS45 chipset, which also feeds the 1810TZ's HDMI port - again, a feature we're not used to seeing on a netbook.