LG BD370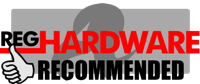 LG's BD370 is a slim unit with a large central power button; press just to the left to open or close the tray, press just to the right to play or pause. Or hit power by mistake. There's another ergonomic annoyance, which is that there's no built-in memory for BD live, and the USB port is accessed by pulling down the right hand flap.
When using USB flash drives the flap has to stay open, exposing stop and next/previous chapter buttons as well. Also, we found the LG a bit picky with this storage method, by not loading some BD-Live titles with one of our USB flash drives. Connectivity options include component and composite, plus co-axial audio, as well as digital.
Niggles aside, this is a pretty good player. It has the best interface of the bunch, with well designed graphics, and a decent remote. The Home screen offers Movie, YouTube, Photo, Music and Setup options. YouTube is simple to use, and worked well, as did the photo browser, and the player was one of the fastest to load our test discs.
Format support is not as good as the Samsung, though there is DivX playback. However, BD-Live features on our X-Men Wolverine disc didn't work, and that, together with the pickiness over USB memory, precludes an outright recommendation, even at this attractive price.
Rating 80%
Price £150 Click here for the best online price
More Info LG's BD370 page
Panasonic DMP-BD60

Like most other recent Panasonic AV products, the DMP-BD60 includes VieraCast, which gives access to YouTube, Picasa, weather reports, Bloomberg stock prices, EuroSport clips and a German language news service. There's support for AVC HD playback from SD card, as well as photos and DivX; you'll need the SD card inserted for BD-Live, too, as there's no built in storage.
Setup is straightforward, and the remote is quite easy to use but, overall, everything felt a bit sluggish – a fact borne out by some of the slowest disc load times in the group. And while the menus are clear and uncluttered, they lack the polish and simplicity found in the Philips or LG players, which both cost around the same amount.
Connectivity is pretty standard – HDMI, composite, and component video, plus optical and analogue audio. If you have a Panasonic TV and want to use the single remote, it's worth looking at, but there are better performers for the money.
Rating 65%
Price £196 Click here for the best online price
More Info Panasonic's DMP-BD60 page
Sponsored: Ransomware has gone nuclear