Samsung BD-P4600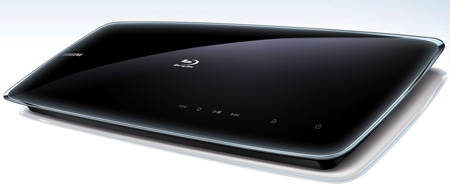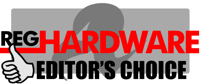 Samsung's player is a little unusual in terms of design; it's not intended to sit in a stack, and works best when fixed to a wall, with the illuminated touch-sensitive controls facing you. If the layout of your living room doesn't allow that, it will sit on top of other things, with or without a stand, though the disc slot on the right hand side may be awkward.
In terms of socketry, it's the most limited player here – there's just HDMI, optical audio, composite video, analogue audio, Ethernet and USB ports, plus a connector for the external PSU. This all appears in a small space that can get a bit cramped as you plug more things in. However, it does have a straightforward interface, with a responsive remote and was one of the quickest to load our test discs.
With 1GB built in, there's no need to add anything to access BD-Live. You can also play a wide range of media, including MKV files, and YouTube is built in too. Oddly, playback from your PC is from an SMB connection, rather than UPnP, and entering passwords or share names using the on-screen keyboard is a chore. If you want something to play back PC media as well as Blu-ray, this is a very handy one-box solution – as long as you can live with the design.
Rating 85%
Price £250 Click here for the best online price
More Info Samsung's BD-P4600 page
Sony BDP-S360

As one of the prime-movers in Blu-ray, you'd expect good things from Sony. There's a standard selection of outputs – component, composite, HDMI, coax and digital audio – and a front panel that hinges down as the disc tray opens, marring the overall sleek appearance.
Like many of the other players here, the BDP-S360 needs extra memory for BD-Live. Fortunately, the USB port is on the rear, out of the way, so there's no need to keep the front panel down, or have something sticking out. That said, it lacks support for media other than on disc – so it's Blu-ray, DVD or CD (audio or photos) only.
If you've used a PlayStation, or a Sony Vaio, you may be familiar with Sony's Cross Media Bar interface. If you haven't, you'll quickly come to detest it, and wish you could align the crosshairs on the designer. It's a misbegotten idea that involves so many changes in directional scrolling you're liable to become seasick. And to make matters worse, the BDP-S360 has a level of opacity on some settings screens that leaves the previous screen just visible enough to make reading really difficult.
Fans of needless anthropomorphism in domestic appliances will doubtless rejoice at the cheery "See you" message that appears when you turn the player off. The rest of us will whimper in despair at how energies were so clearly directed to the wrong part of interface design. With its quirky interface, and lacking features like YouTube or network media playback, Sony's player just doesn't stand out from the crowd. ®
Rating 65%
Price £180 Click here for the best online price
More Info Sony's BDP-S360 page