Leccy Tech Nissan has allegedly denounced BMW's contact to supply 4000 "low emission" vehicles for the 2012 London Olympics as a "backwards step" for the capital's chances of becoming an e-car world leader.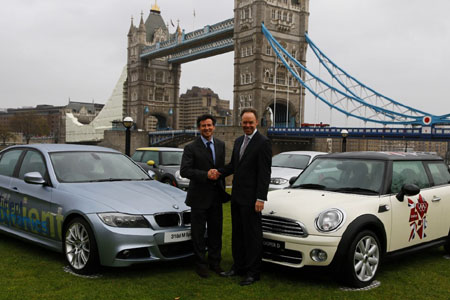 Locog's Lord Coe (left) and Ian Robertson of BMW shake hands
The London Organising Committee of the Olympic Games (Locog) recently invited car manufacturers to pitch for the chance to supply around 4000 vehicles to the games. The cars will be used for ferrying support staff and athletes around town.
Each car had to offer a maximum average CO2 output of 120g/km, Locog said.
BMW was awarded the deal last week, but a senior Nissan source has since told to car mag Autocar that its e-car fleet would have been a better choice.
Nissan reckons its motors would offer fleet-average CO2 readings of less than 60g/km, mainly because half of the supplied vehicles would have been its new Leaf e-car.
The car firm would also have worked with French power company EDF to install charging points around the capital, the mole claimed - a big step towards realising London Mayor Boris Johnson's dream of making the city the leccy car capital of Europe.
The British government is keen for Nissan to build the Leaf at the firm's Sunderland factory, and the opportunity to have 2000 of the e-cars dashing around London under the eyes on the world's media would have gone some way toward making that happen.
BMW hasn't yet said what its Olympic car fleet will consist of, but the only e-car it has is the Mini E, a two-seater technology demonstration not yet ready for production - unlike Nissan's Leaf. ®