This article is more than 1 year old
Samsung UE40B7000 40in LCD TV
Skinny screen, but ample vision
Review Flatscreen TVs with LED backlighting offer more vivid colours, darker blacks and greater contrast than regular LCD screens. And there's a slimness dividend, too, as edge-mounted LED backlights take up less space than conventional LCD bulbs. A case in point is Samsung's UE40B7000, a 40in 1080p HDTV that's only 30mm deep.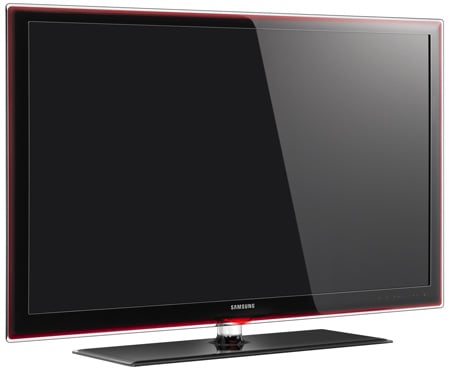 Indubitably, a flatscreen TV: Samsung's UE40B7000
We've noted before that a slim TV shouldn't make much difference – after all, if you're sitting front and centre you won't even see it. Even so, it makes an LCD TV look pretty striking at glance from an angle, and it looks especially neat if you wall-mount the set.
Samsung is particularly good at making its sets stand out, on this model the bezel is clear at the edge and rose red behind. The stand has a thick transparent tube neck that connects to the black-and-clear glass stand, both of which are visually agreeable. Of course, you'll be paying more attention to the TV when it's on, but even so, it's a good start.
To preserve its sleekness, a super-slim TV, is unlikely to have room for a Scart connector, Component or Composite inputs, which is the case here. Instead, there's a slim, one-socket solution for each and an adaptor supplied. Not perfect, but it'll do, and is certainly a more elegant option than the external connections box favoured by some slim TV makers. And the set makes up for this with four edge-mounted HDMI connectors, two USB sockets alongside the aerial, common interface and other slots.
Additional connections include a port, which connects either to a computer or the Internet – so you can tune in to YouTube and more on your TV. The range of services you can connect to in this walled garden is limited, and it's a shame Samsung's WIS09ABGN wireless USB connector option isn't included as standard or, even better, built in, as the addition of an Ethernet cable to the router won't suit all living rooms, especially if your TV is wall-mounted. Even so, it's still a neat way to add to what you can watch on your TV. Setup was straightforward, though neither painless nor quick, mind.

LED backlighting allows for a slimline design
Once you're up and running, though, a press of the dedicated Internet key on the remote displays Yahoo! News, Flickr, Weather, Stocks and more. YouTube took an age to load, which was boring, but the simpler widgets were quick and simple in use. The usefulness of this convergent technology still isn't clear, though.