Acer has shown off its SMB and HPC entry tickets at a Milan show today.
The company has been perceived as a PC and mobile-centric vendor because its offerings haven't included beefy servers or storage suited to mainstream small and medium business (SMB) or, in any way at all, the high-performance computing (HPC) market. It does have some entry-level SMB products but nothing for the mainstream.
All Acer products are sold through the channel and Acer is not entering the enterprise server and storage markets because direct selling is needed. Acer president and CEO, Gianfranco Lanci, said: "We will stay indirect."
Acer has a multi-brand strategy with four brands: Acer, Gateway, Packard Bell and eMachines, reflecting its acquisition history. It claims "The Acer brand name is always on the cutting edge, highly innovative and capable of simplifying life through technology and in style; while those of Gateway in America and Asia, and Packard Bell in Europe are synonymous for fashion and trendiness".
Emachines "is aimed at those who adopt a strictly pragmatic approach and expect that a PC is predominantly an efficient and worthwhile instrument".
On the server front Acer has been selling an Altos workgroup server line. The Altos G540 M2 is a twin Xeon 5500 system for example, while the G5450 uses 64-bit AMD Opteron processors.
The company entered the home server market, using Windows Home Server software, in May this year, with the $400 Aspire easyStore AH340-UA230N using an Intel Atom 230 processor. It comes with 2GB RAM, and from 1TB to 7TB of storage. That took Acer into the very low-end server space.
Gateway will now offer server and storage products focused on the mainstream SMB and HPC markets. The servers will use Intel 4-core Nehalem processors with system software by Microsoft, including Windows Server 2008 (and Hyper-V), and Windows HPC Server 2008. There are tower (GT) models, rack (GR) models, blade (GB) models, and HPC (Gemini brand) models.
The general product positioning is shown in the slide below:-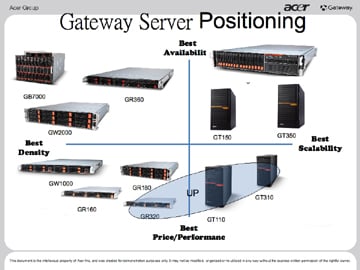 Gianluca Degliesposti, Acer's EMEA VP for global server business development, said the servers are ready to take 4- and 6-core Westmere processors. HPC customers will be offered blade and modular servers.
There will be tape drives offered as well, but no details of these were offered.
Acer sees four storage market segments: the small office and entry-level small business markets will be offered Gateway brand storage. The products are the GN100 and GN1000 and come with Windows Storage Server 2008 R2. Mainstream small and medium businesses will be offered three HDS AMS storage, positioned as SAN (Storage area network) arrays; the AMS-2000, AMS-2100, and AMS-2300, branded as Gateway Hitachi Data Systems storage.
HPC customers will be offered HDS network-attached storage (NAS) products branded as the GN2000 and GN3000. These are HDS' BlueArc Mercury products. They also come with Windows DPM (Data Protection Manager). There will be modular packaging of HPC hardware, software and services in orderable units to simplify purchasing complexity.