Leccy Tech One of the highlights of the 2009 Los Angeles Auto Show, which opens on 4 December, will be a jet-powered electric car.
Called the CMT-380, the vehicle has been developed by microturbine specialist Capstone with help from Electronic Arts' Chief Creative Director, Richard Hilleman, who presumably is tired of only driving far-out cars virtually.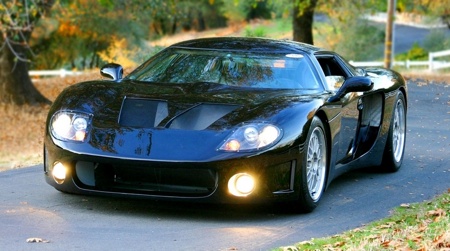 The CMT-380: cool power plant - and not a bad looker, either
Essentially a range-extended hybrid, the CMT-380 is electrically driven in much the same way as the Chevrolet Volt. When the charge in the car's Li-ion battery pack is exhausted, an engine fires up to power the electric motors and replenish the battery pack.
The main difference is that while the Volt has a 1.4l four-pot, the CMT-380 has a biodiesel-powered C30 microturbine that can spin at up to 96,000rpm and produces 30kW.
And the turbine meets California's 2010 auto-emission regulations without the need for any exhaust treatment.
It also benefits from being considerably smaller and quieter than a conventional car engine.
Capstone didn't issue any fuel economy figures, but the turbine can be run on low- or high-pressure natural gas, biogas, propane or kerosene.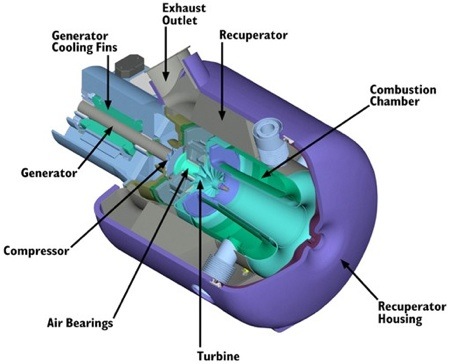 Inside the microturbine
Earlier this year, a C30 microturbine was successfully integrated into a modified electric Ford S-Max people carrier here in Blighty by Langford Performance Engineering of Wellingborough. According to Capstone, that vehicle turned in around 80mpg during trials.
Capstone reckons the CMT-380 has a top speed of 150mph and can hit 60 in 3.9 seconds. The range on a full battery charge is said to be about 80 miles with another 420 miles available from a full tank of biodiesel.
If enough interest is generated at the LA show, a limited production run is planned. No price has been announced but, let's face it, if you have to ask you can't afford it. ®