Porn app targets your Android
Stiff iPhone competition
Users of Android-based smartphones now have access to an app that provides a service unattainable from any of the 100,000-plus offerings in the iPhone App Store.
Porn.
MiKandi, a Seattle, Washington start-up, is offering its eponymous app not through Google's own Android Market, but from its own website, downloadable free when accessed through the Android browser.
Google, like Apple, vets apps offered through its online store but, unlike Apple, the company also allows you to install non-vetted apps as you see fit. Which is the tack that the MiKandi crew is taking.
Apple may be justly criticized for its seemingly arbitrary app-approval process, but one thing is certain: jiggling jubblies and ham-slamming movies of the beast with two backs need not apply.
And so MiKandi is taking its adults-only wares to the Android (lowercase "m") market - although the company notes that the same fleshy opportunities will be offered for other devices soon.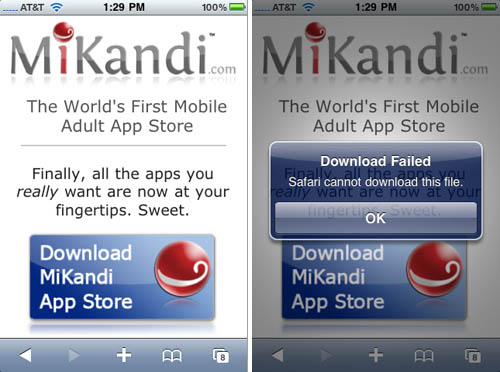 You can get to MiKandi's first base if you're an iPhone user (left) - but that's as far as you'll go (right)
Porn has a long and honorable tradition of aiding the adoption of many a technology, from Polaroid cameras to VHS tapes to DVDs to the web itself. It can be argued, in fact, that the personal computer itself might owe some measure of its universality to its versatility as a home pornograph.
But will an Android porn app help Googlephones lick the iPhone's swelling market share?
We doubt it. Although Apple's bluenosedness prevents an iPhone app from inspiring one-handed iPhone viewing, such edification and enjoyment is freely available through the iPhone's Safari browser. A quick Google search for small-screen salaciousness turns up dozens of Safari skin flickers, including such worthies as Pocket Sized Porn, PornHub.com, iPhone Porn GridXL, and iPinkVisual - which has the unambiguous if self-congratulatory tagline of "We innovate. You masturbate."
But that's not stopping the worthies at MiKandi. Their business bet is to be a bonking bazaar, providing porn peddlers a place to share their wares with woodsman wannabes worldwide.
And they're hiring. If you're in the Great Northwest and you're a coder, designer, or marketeer, MiKandi wants to talk with you. But be forewarned. As their somewhat salaciously named Open Positions job board says, "Due to the adult content of our products, self-righteous, ignorant and/or annoying people need not apply." ®