Dates named for next Microsoft Office and SQL Server
Online Office opens next summer
---
Updated Delivery dates for two eagerly awaited pieces of software and the web version of Office from Microsoft have slipped out.
Office 2010 will ship in June next year, a Microsoft spokesperson told The Reg, confirming a story that appeared in BetaNews.
The hosted version of Office, Office Web apps, will be available at the same time, a Microsoft spokesperson also told The Reg. Office Web apps are currently in public beta.
The Office Web apps will likely get people more excited than Office 2010, as they'll be seen as Microsoft's long-awaited answer to Google Docs and even though you'll need some back-end bloat from SharePoint to really take advantage of the Web apps.
Until now, Microsoft's said simply Office 2010 would be released to manufacturing in the first-half of next year. The date comes after Microsoft delivered Exchange Server 2010 last month, the first installment in a planned line up of Office 2010-related products.
SQL Server 2008 R2, meanwhile, is coming on May 6, 2010 - Microsoft had previously talked only of availability in the first-half of next year.
The release date emerged after partner Unisys published a white paper highlighting the results of a 96-core Unisys ES7000 system running SQL Server 2008 R2 under tests from the Transaction Processing Performance Council (TPC).
You can grab the white paper here (warning: PDF) and see the Microsoft company blog below that announces the ship date and results.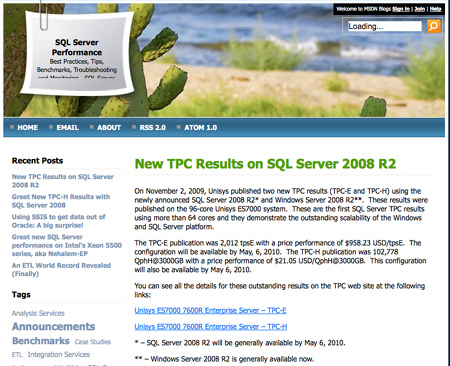 TPC guidelines forced Microsoft's hand on SQL Server 2008 R2 dates
A spokesperson for Microsoft said the results were made public because TPC rules require products to be available within 185 days of a benchmark's publication.
Attempting to distract attention away from the now clearly visible over-sized simian wandering about the room, the spokesperson said Microsoft would push back the date if more work is needed on SQL Server 2008 R2.
"If this release needs some additional time, to deliver the quality our customers and partners expect, these benchmark results would be re-published using the final build of the product," the spokesperson said. ®
This article has been updated to include dates for availability of Office Web apps.