Review Plenty of notebooks supporting Windows 7 multi-touch features have already been announced, but the Aspire 5738PG Touch is one of the earliest to actually hit the shelves. Acer has entered into the spirit of the touch revolution by implementing the technology on-screen as well as on the trackpad, but more on that later.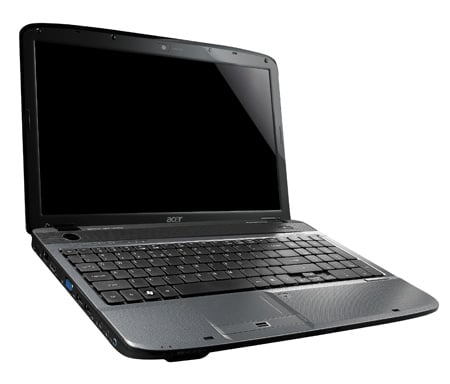 Acer's Aspire 5738PG Touch: if it looks big, it's because it is big
The model we tested was driven by an Intel Core 2 Duo P8700 processor running at 2.53GHz. It was fitted with a 500GB Hitachi hard disk, 4GB of Ram installed as two 2GB SODIMMS, an 8x DVD writer and an ATI Mobility Radeon HD4570 graphics chipset with 510MB of memory. Our immediate impression of the Aspire 5738PG out of the box was of a big and very shiny blue toy. While it is certainly no toy, its size (383x250x26mm) and weight (2.8kg) are unusual in a market currently being swamped by rinky dinky little netbooks.
The unit opens using a shiny sliding catch at the front, which we found tricky to operate, to reveal a large keyboard and an even shinier screen. The keyboard features a full 103 keys and a proper numeric keypad. The key caps are big with good, minimal action, and the wide keys are really wide indeed. Unfortunately, the essential left-hand Ctrl key is still the same size as a normal character key, its width sacrificed to make room for a non-essential Fn key.
In front of the keyboard is a large trackpad with a dedicated vertical scrolling strip on its right-hand edge. A button to the right of the trackpad can be used to disable it temporarily to prevent accidental cursor movement while using a mouse or on-screen touch input. This is all good stuff: it shows that Acer has thought about the way real people use notebooks.
Sandwiched between the left and right mouse-click buttons in front of the trackpad is a swipe-action fingerprint reader. In conjunction with the supplied Acer Bio Protection software utility, you can assign any of your ten fingers to log in (in place of your password), log off, shut down, hibernate, set reminders and so on. It works reliably but you need to maintain a certain level of hygiene: a combination of greasy fingers and a coffee-and-crumb-infested keyboard will eventually get in the way.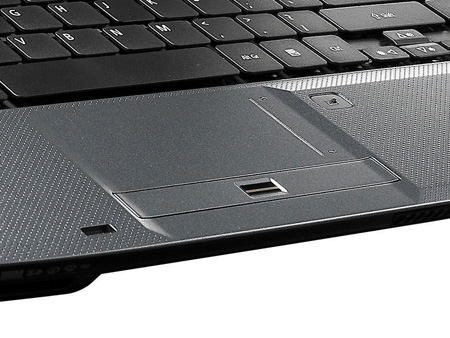 The large track-and-scroll pad is accompanied by a fingerprint reader
Towards the back of the base, above the keyboard, Acer has fitted a series of useful button controls for altering audio volume and enabling or disabling wireless and Bluetooth functions independently. There is also a large and lonely button marked 'P' which you can use to launch a favourite program. Just the one, mind. The wireless support includes 802.11n, nothing less would do in a modern notebook.