Review Iomega's original ScreenPlay Pro network media player was a bit of a mixed bag. It had very good connectivity features, including a video input option that allowed it to capture video as well as simply playing audio and video files that were already stored on it. However, it was let down by its inability to play H.264 video – the format used by the ubiquitous iPod and numerous other devices.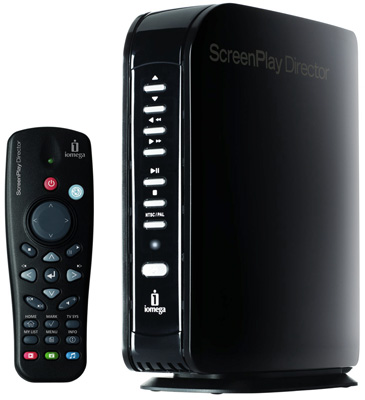 Iomega's ScreenPlay Director
Needless to say, the first thing we did when we received the new Screenplay Director HD was to check whether it could handle H.264. It came through that test with flying colours, although we did discover a few other rough edges along the way. Even so, it's clear that Iomega has put a bit more thought into this model than it did with its predecessor.
At first glance, the Director HD appears identical to the earlier ScreenPlay Pro. It's a slim, glossy unit that looks like a fairly conventional hard disk, albeit with a few extra buttons on the front. Our review unit had a 1TB hard disk inside it and costs £179, and there's also a 2TB version available for £309.
Around the back of the unit you'll find an HDMI interface capable of outputting video at full 1080p resolution, along with component and composite video outputs and both analogue and digital audio output. Iomega sensibly includes HDMI and composite video cables, as well as a Scart adaptor, so that you can use it with most types of TV straight out of the box.
There's also a 10/100 Ethernet interface for connecting it to your home network. Admittedly, Gigabit Ethernet would have been preferred, but there no problems playing 1920x1080 video files on the network. The composite video input found on the ScreenPlay Pro has gone, making room for three USB 2.0 ports that can be used to plug in additional storage devices.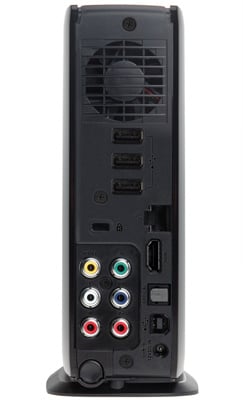 The vent at the looks big but it's quiet when running
There's also a fourth USB port that can be used to directly connect the Director HD to a single computer. This allows you to transfer a large library of audio and video files more quickly than using the 10/100 Ethernet interface, as well as allowing you to add or remove folders from its hard disk when organising your collection of media files. There's a sizeable fan vent on the back of the unit, but the Director HD made hardly any noise while we were using it so that didn't turn out to be a problem.