This article is more than 1 year old
Twitter founder signs up to iPhone mag-stripe reader
Square gives other card readers the finger
Jack Dorsey, co-founder of Twitter, has launched a mag-stripe reader for the iPhone, proving you don't need a good idea to garner VC dollars.
Dorsey's "Square" service comprises a magnetic strip reader balanced precariously on the bottom of an iPod Touch, or iPhone, along with an application which processes the transaction and e-mails a receipt. It's no wonder that VC's have already handed over $10m in cash and can't wait to give him more.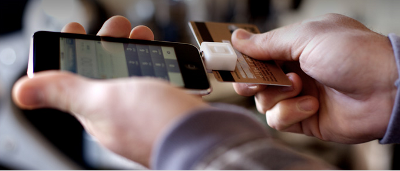 No way that's going to come loose or snap off, it looks secure to me
Setting aside the fragility of the design - which draws power from the swipe and connects via the audio jack - and the legality of a signature scrawled using a finger, Square does allow the customer to receive an e-mailed confirmation if they're prepared to stop and type in their e-mail address during the transaction.
Those who choose to register with the service can also upload a photograph which is displayed on the iPhone's screen, but photographs on cards have been tried before with limited success. A particularly famous UK trial culminated with one trialist replacing their photograph with that of a gorilla, without raising an eyebrow when it was used.
So setting aside the fluff, we have a credit-card-processing application on the iPhone, similar to the half-dozen already in the app store. Only this time, it comes with a plastic lump that reads the card number by taking advantage of a feature banks have been trying to phase out for a decade or two.
But this is the man who helped found Twitter, a company with a billion-dollar valuation despite having no revenue stream at all: where do we sign up, and do we have to use a finger to do it? ®