Windows 7 saw healthy growth in web-tracked usage in its first full month of release while Mac OS X found itself moving in a direction Cupertino is not used to: downward.
The web-watchers at NetApplications report that when tracked on a daily basis, Windows 7 now accounts for five per cent of operating systems using the web. Averaged over the month of November, four per cent of web traffic went to machines running Windows 7.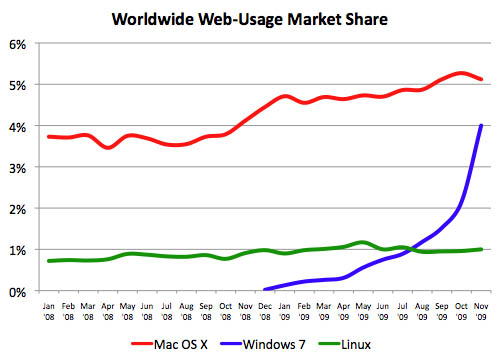 Any bets on where those trend lines will be at the end of the year?
To be sure, Apple's slippage is far from monumental - Mac OS X dropped from 5.27 per cent in October to 5.12 per cent in November among operating systems that NetApplications tracked on the web. But Apple's operating system has seen its market share creeping upward relatively consistently since its surge late last year.
Windows 7's gains appear to be coming at the expense of Windows XP, and not Windows Vista, which dipped only slightly. Month-on-month, Windows XP sank 1.43 per cent to 69.05 while Vista slipped a mere 0.28 per cent to 18.55.
Those figures indicate that Windows 7 isn't stealing Vista's market share simply because Vista didn't have much to begin with.
Linux, by the way, still hovers around one per cent, as it has all year. The few, the proud, the penguins.
Among browsers, Internet Explorer sank to a new low of 63.62 per cent, while Firefox reached a new high of 24.72 per cent. Google's Chrome has seen a sharp increase in 2009 - its 1.52 per cent presence in January grew handsomely by November to 3.93.
Apple's Safari sank gently along with Mac OS X in November, down to 4.36 per cent from October's 4.42.
Still, one analyst has good news for Mac fans. In a discussion of Apple's recent performance, Charlie Wolf of Needham & Co points out: "Today, Apple gets one out every ten dollars spent on home computers worldwide. In the US, its dollar share is more than one in five."
Apple's market share may be stalling at around five per cent, but its popularity in the home and its high margins are using that five per cent to keep it and its shareholders fat and happy. ®