Climategate In response to the Climategate scandal, one of Britain's most senior climate officials has called for science to be made more "democratic". Mike Hulme has repeated his earlier calls for what he calls "post-normal", postmodern science - but has dusted the appeal with the magic pixie dust of Web 2.0.
Hulme was head of the Tyndall Centre at the University of Manchester, and is now a staff advisor at CRU. We interviewed him this year here.
"Extended peer review is an idea that can take many forms," but should involve non-scientists, such as activists, he writes at the BBC - people who have "legitimate stakes in the significance of what is being claimed".
Knowledge can't be "validated" without this extended family vetting research for truthiness, he writes. And this is where the 'New Democracy' of Web 2.0 comes in. People who use social networks or Twitter should er, be able to "have their say" validating scientific enquiry, too.
(So, for example, a theory that breaks with the popular consensus, such as the idea that the Earth orbits the Sun, should be peer-reviewed by interested non-scientists, such as Cardinals.)
Truth or dare
While acknowledging Climategate has damaged trust in science, Hulme seeks not to repair it by advocating an honest dialogue with the public, or returning to first principles, where stuff may be true. Instead, he's looking to apply the Consensus Theory of Knowledge (where the idea with the most votes wins) to science.
But it's not an original path to go down. He's treading in the footsteps of American philosopher prince Stephen Colbert.
Compare Hulme: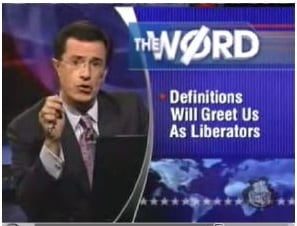 with Colbert:
"Instead, warranted knowledge - knowledge that is authoritative, reliable and guaranteed on the basis of how it has been acquired - has become more sought after than the ideal of some ultimately true and objective knowledge.
Or should that be the other way around? It's really hard to tell.
The phrase "warranted knowledge" - with its echoes of Papal authority and the Inquisition - is far from democratic. The 2.0-tastic tools don't lend any legitimacy to the exercise.
Colbert defined 'Truthiness' as the "the Truth we want to exist" - an apt description for Hulme's post-modern epistemology, and it works pretty well for contemporary climate predictions, too, as we know from the Hockey Stick discussions leaked from CRU. Colbert also challenged his TV audience to redefine reality - which they did, via that democratic conduit of warranted authority, Wikipedia.
But Colbert was being satirical. Hulme isn't. ®
Bootnote
Bloggers mining the CRU archive have found Hulme allegedly altering temperatures, pressuring publications, and putting his name to Greenpeace PR. Let's hope this was done from a position of warranted authority.
Similar topics