Space butterflies invade ISS
…and they're hungry
---
Astronauts aboard the International Space Station are now hopelessly outnumbered by orbital butterflies as part of a student education project dubbed, "Butterflies in Space."
Four Painted Lady butterflies emerged this week from chrysalises floating freely in a suitcase-sized container on the ISS, after blasting off in space shuttle Atlantis in late November as six-day-old larvae. Although butterflies have pupated in the orbiting outpost before, this is the first time the insects have spent so much of their lifecycle in microgravity.
NASA said the test will be instructive to how the butterflies function living in a near zero-G environment for most of their lives, and whether aspects of their nervous system and physiology will adjust to the adverse conditions.
Down on Earth, thousands of students across the United States are following along with the project by watching video streams and pictures of the "butterflynauts" as they develop - and in some cases raising Earthbound examples of the species in their classrooms.
The experiment is a partnership of the National Biomedical Research Institute, the University of Colorado's BioServe Space Technologies, and Baylor College of Medicine. The latter has drawn up a free teacher's guide for the project, available here.
Dr. Nancy Moreno, senior associate director of Baylor College of Medicine's Center for Education Outreach told El Reg that the space-faring Painted Ladies are looking healthy and have properly inflated their wings - although thus far they've been holding on to the container's walls rather than attempting to float about.
She explains that the special container is designed to take a snapshot of the butterflies automatically every 15 minutes. Fortunately for the ISS crew that's shorthanded most of this month, the container requires a minimal amount of attention. The slots on the lefthand side of the box contain all the artificial yellow paste a growing larvae would ever want to eat. And after the four larvae pupated, astronaut Bob Thirsk simply placed a sugar water feeder inside the container - which is visible as the red and yellow circle on the righthand side.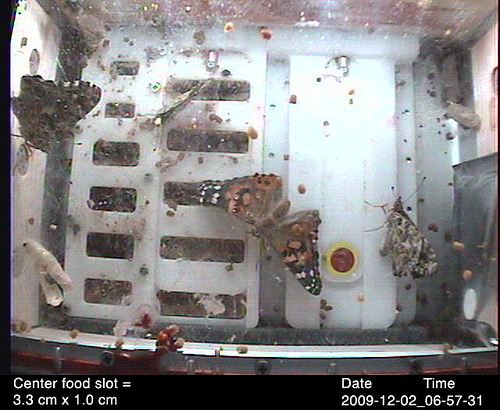 The gunk inside, by the way, is larvae poop. Lots and lots of larvae poop.
Moreno said an adult Painted Lady butterfly can be expected to live about two to four weeks in a similar environment on Earth, which is longer than it would on average out in the wild. With the relatively short lifecycle of the species, there may even be a second generation of Painted Lady butterflies if all goes well.
"It's really a wonderful technical success as well as incredibly exciting for all the students following the experiments," Moreno said. "Very rarely do we have an opportunity in science education that's this exciting for kids."
Kids schmids. Grown-ups can also follow along with the space-butterfly updates here and the latest pictures here. ®