Google moves tanks onto property market's lawns
Making stuff cheaper for estate agents? This might not be popular...
---
Google's latest target for freeing to death is, says the Financial Times, the UK property market. According to the paper, the company intends to launch a service offering estate agents free property listings early next year, and to bankroll it through advertising.
Currently UK online property listings are conducted via portals such as Rightmove, which says it hosts listings for 90 per cent of UK estate agents. Estate agents have to pay a fee in order to have their properties listed, so if Google's service can achieve critical mass and become a destination for property buyers and sellers, it will become a major threat to - or quite possibly the death of - the likes of Rightmove.
That however is by no means a racing certainty. Google has found in the past that if it builds it, they don't necessarily come, and the point of online property sites is that they only work if they have comprehensive listings. Buyers aren't going to come to your property store if you don't list practically all of the available properties in their chosen areas.
So Google will need to work fairly hard at pitching its service to estate agents, and the agents themselves aren't likely to stop paying the existing portals for listing until they're absolutely certain that Google's property service is equivalent or better.
The FT suggests that the UK service will be similar to the Google Maps-based system the company launched in Australia earlier this year.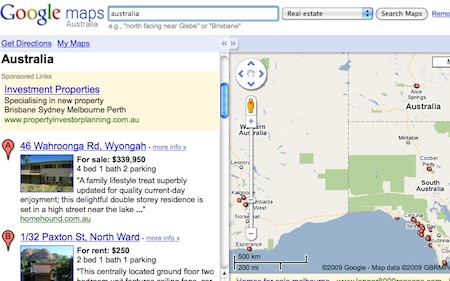 This seems not to have destroyed Australia's existing property websites as yet, but it's clearly being pitched as a handy add-on to Google Maps, rather than as a tool to destroy the existing market. Property sites do use maps, certainly, but they don't tend to foreground them, on the basis people probably already know where they want to buy, so they'll shortlist property first, then use maps for a local area check.
So if Google really is out to kill Rightmove, we don't think they'll be using the Australian model to do it. ®