Honda goes NUTs for future micro-car
Welcome please the, ahem, Neo Urban Transport
---
Leccy Tech Honda has whipped the dust covers of its vision of the small, urban coupé of tomorrow at the LA Auto Show.
The Personal Neo Urban Transport - or P-NUT - seats three with the driver amidships and fits within the diminutive footprint of a micro-car.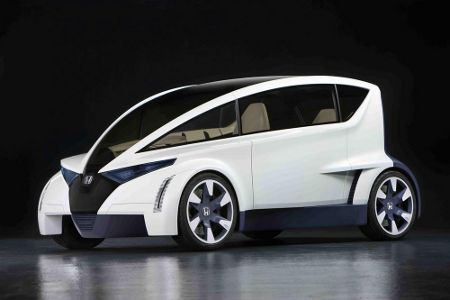 Honda's P-NUT: US notion of a micro-car
Or rather within the American idea of a micro-car, because the P-NUT is the brainchild of Honda's California R&D office and at 3.4m long 1.75m by 1.439m tall, the P-NUT is actually rather too wide to qualify as a true Japanese keijidosha micro-car.
The rear engine bay has been designed to accommodate a wide variety of potential power trains, including a small internal combustion engine, a hybrid system, or a battery-electric drive train.
As is the vogue with the current crop of tiny leccy concept cars, the P-NUT does without pedals leaving the driver to control the vehicle using a steering yoke. The dashboard is also dispensed with, all information being relaid either via a head-up display or a narrow OLED strip above the steering column.
Apparently, the rear seats fold up and away when not in use, allowing for a usable amount of interior luggage space when travelling one-up.
The P-NUT is just a design study at the moment so don't expect to see one on the road any time soon. ®