Micron takes wraps off 'fastest' desktop SSD
6Gb/s Sata does the trick
Memory maker Micron has introduced what may be the first solid-state drive fitted with a 6Gb/s Sata 3.0 connector.
The RealSSD C300 is being pitched as "the fastest drive for notebook and desktop personal computers". Easy to say, that, and Micron followed it up by stating the C300 is faster than any other SSD connected by a 3Gb/s Sata link into the bargain.
Independent testing will refute or reinforce the claim. Until then, we have Micron's numbers: a read throughput up to 355MB/s and a write throughput of up to 215MB/s.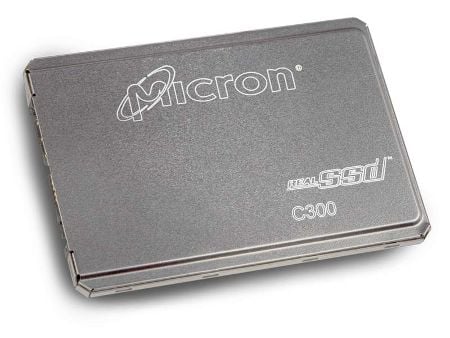 Micron's RealSSD: goes like the proverbial off a shovel?
"Using the common PC Mark Vantage scoring system, the C300 SSD turns in a score of 45,000 from the HDD Suite," the company said.
Laptop drives we've looked at - albeit in lower-end boxes - yield PCMark Vantage HDD results of up to 4,000.
But it's easy to take a single benchmark results out of context and, again, we await real-world testing before we judge.
In any case, the C300 is only now available in sample quantities before entering volume production in Q1 2010. It'll ship in 1.8in and 2.5in form-factors, and 128GB and 256GB capacities.
Micron didn't say how much we can expect to pay for these marvels. ®