Optoma HD20 budget full HD projector
Light fantastic
---
Review Billed as the first 1080p projector available for under £900, Optoma has taken a no-frills approach to cram maximum HD goodness into its HD20 home cinema projector. Compact at 324 x 234 x 97mm, it houses a full HD 1080p DLP device to satisfy film buffs and big screen HD gamers.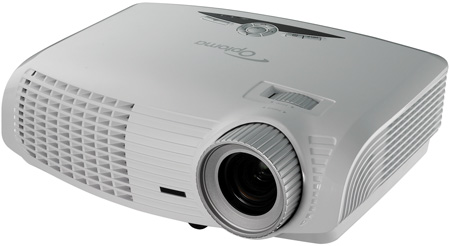 Back to basics: Optoma's HD20
The HD20 comes with a standard set of inputs suitable for a budget home cinema projector. A pair of HDMI 1.3 ports is complemented with a standard VGA connector as well as composite and component video. There's also a standard 12V output for triggering your motorised screen, should you have one.
The lens throw ratio of 1.5 – 1.8 allows for a picture ranging from 0.96m to 7.64m in diagonal at a distance ranging from 1.5m to 12.5m. A replacement lamp will cost you around £180. Brightness output is specified at 1700 ANSI lumens, which actually makes it Optoma's brightest home entertainment projector.
Optoma's quoted contrast ratio of 500:1 may appear bafflingly low at first glance. Yet, for many years, projector manufacturers have told downright lies about their performance characteristics. Brightness, quoted in lumens, was often based on theoretical lamp performance unachievable in any real-world situation. Similarly, overblown and rather useless contrast ratio specifications abound.
More recently, some sort of order has been brought about by using ANSI standard brightness measurements which ensure that all vendors use the same method of measuring brightness, so fair comparisons can be made. Optoma has now taken the bold step of specifying an ANSI contrast ratio, hoping to bring the same order to the measurement of contrast.

Video-only: No audio gimmicks here
We say bold, because ANSI measurements are always lower than those previously quoted. In this case the HD20's contrast ratio looks pitifully small, however one look at the on-screen image will allay any fears that this projector is unable to deliver.