Leccy Tech A new racing series solely devoted to electric vehicles looks set to begin in 2011 if the plans of a British racing concern come to fruition.
The series - to be called the EV Cup - was officially launched in London last week by a company called EEVRC Ltd.

First race meetings in 2011 under this flag
Its initial aim is to organise six race events - two in Blighty, two in France and two in Germany – in 2011 under the auspices of the FIA, motorsport's international governing body.
The EV Cup events will feature a number of single-type races divided into three different classes: City, Sports and Prototypes.
The City class will be for production cars such as the Mitsubishi iMiEV - reviewed here - and Th!nk City, while the Sports class is aimed at higher performance battery-powered production road cars such as the Ginetta G50EV or Lightning GT.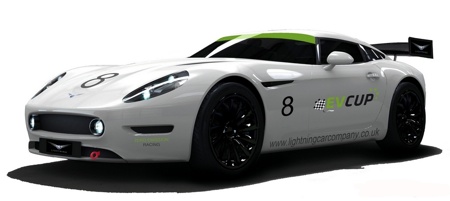 Lightning has expressed an interest
The Prototype races will be for pure-bred track cars such as the GreenGT.
To date, leccy car makers Th!nk, Ginetta, The Lightning Car Company and GreenGT have all registered support for the series.
EEVRC Ltd. plans to hold several promotional events next year with the aim of raising interest in the series before the tyres hit the tarmac in earnest. ®