The idea of putting servers, storage, and networking gear into metal shipping containers and linking them together into a data centre cluster is not a new idea - Sun Microsystems was the first to propose the idea back in October 2006 - but it is catching on enough that IBM is endorsing the concept and shipping a product.
Big Blue was showing off its riff on the containerized data centre, which it called the Portable Modular Data Centre, at the 28th annual Gartner Data Center Conference in Las Vegas, last week. And as you can see, it is a shipping container with a paint job - well, at least on the outside.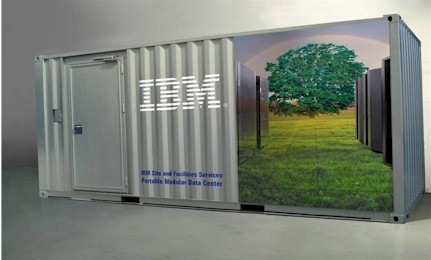 On the inside, the shipping container is equipped with power distribution, cooling, emergency electricity generating, and other gear from partners such as Anixter, CommScope, Eaton, Emerson Network Power, Panduit, Schneider Electric, Siemon, and Vette. Then IBM plunks in racks of servers, storage, networking gear, and a place behind the rack where the system admins can hide and pretend they are doing work. Perhaps in configurations like these shown below: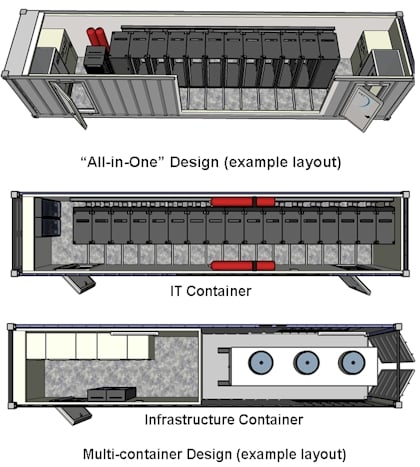 There are a bunch of reasons why IT vendors are looking at containers for data centres. First, putting a crunchy shell around hardware and software is cheap. A container is a commodity in the shipping and trucking business, costing in the order of a few grand. Outfitting it with power and cooling, fake floors and walls, and racks for gear is not cheap, but it is a lot less expensive than building a data centre of the same floor capacity.
According to IBM, it can cost 30 per cent less to design and build a containerized data centre than a traditional one with air-conditioning and possibly raised floors or dropped ceilings. And with rear door heat exchangers on the racks and other tricks like power management on the IT gear, you can cram twice as much gear into the same square footage of space or take down the space you use by half for the same amount of gear.
The PMDC - which needs a better name and Porta-SAN is only appropriate when filled with storage - is being sold by IBM's Global Technology Services unit within the Global Services behemoth, but really belongs in Systems and Technology Group. Next, Global Services will be designing custom servers and cats will be living with dogs - complete pandemonium.
IBM says it can deploy a data centre weighing in at between 500 and 2,500 square feet using multiple containers in somewhere between eight and 12 weeks, which is fast by construction standards. And, if need be, containers can be plunked into secure parking lots, warehouses, or anywhere you have space.
You can also bring containers into the data centre to increase the power density of the gear and the cooling efficiency of the chillers. IBM says that rolling containers into an existing data centre can be 35 per cent less expensive than doing a data centre retrofit to cope with high-density gear. IBM is also perfectly happy to roll out more expansive modular data centres in the range of 5,000 to 20,000 square feet, and will go larger if customers need to.
IBM is selling containerized data centres in 20-foot and 40-foot sizes. You can put them wherever there is power, cooling, and telecom. The containers are fully sealed and insulated, so it can be the tundra or the desert - IBM doesn't care. They have the same kind of access control as a real data centre, including magnetic strip card readers, biometric scanners, and numeric keypads, as well as internal and external closed-circuit TV surveillance.
The current design can handle power densities on IT gear of around 30 kilowatts per rack, which tops a 40-foot container at 510 kilowatts. A maxxed-out PMDC has 19 racks of space, which works out to 798 1U servers. Using IBM's iDataPlex rack or BladeCenter blade servers, you can double that density to 1,596 servers and still stay in the power envelope of the container. You can put any IT gear you want into the box, of course; the container is platform agnostic.
IBM says that using cheapo x64 servers that are not particularly dense, a 20-foot PMDC loaded with servers will run you about $450,000. That doesn't count the cost of all the infrastructure support gear from partners - that's just the IBM System x boxes and the container with the floor and insulation. In other words, it is not very helpful as a price quote. ®
Similar topics