Nokia N900 Linux smartphone
Finnish phone firm fights back
The 3.5in resistive touchscreen was also a bit of a surprise, since we'd rather been expecting iPod-style capacitive version. Again though, it worked surprisingly well, proving itself to be nicely sensitive to the distinction between our brushes and presses. It doesn't do multitouch, but we didn't really miss it for reasons that will become clear later. As for the stylus, we only really fell back on it when we were browsing, as the Maemo 5 menus feature nice, big, thumb-friendly icons.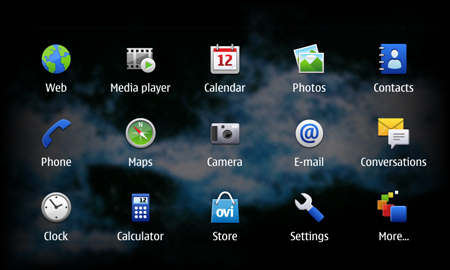 Big, thumb-friendly icons
And speaking of Maemo 5, it looks like Nokia has made a very promising move here. Based on the open source Linux platform, it manages the trick of looking similar enough to Nokia's Symbian phones – so as not to frighten its core customers – but adds additional usability and style. Even so, there's a bit of a learning curve involved in getting the hang of it.
The menu button, for instance, is in the top left-hand corner, but once you're in the menu, there's no obvious way to get back to your home page, until you realise you need to press the power button on the side – or top, if you're using it in landscape mode. Similarly, there are Windows-style 'X' markings in the top right-hand corner to exit each app, but they're not always clearly visible, although we discovered they always seemed to be respond when we pressed in that spot.
The Maemo 5 OS is no doubt helped by the powerful ARM Cortex-A8 processor and OpenGL ES 2.0 graphics acceleration, since the N900 always performed in a sprightly fashion whether skipping through the menus or viewing videos. No modern smart phone is complete without its App Store equivalent, and with the N900 it's the still thinly populated Ovi Store, which has only a few dozen apps to choose from at present, though we'd expect to see a lot more soon.
The Facebook widget caught our eye though, since it amends your updates in real time on your home screen, allowing you to see your latest Facebook action as it happens. Unfortunately there's no equivalent app yet for Twitter, though you can set a link to your Twitter page as an icon on one of your four customisable your home pages.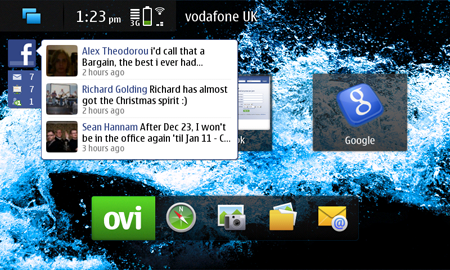 The inevitable Facebook phone app
Messaging is easy to set up with most of the big providers catered for, including Microsoft Exchange. The Qwerty keyboard makes writing e-mails second nature and, usefully, you can send HTML versions as well as plain text, with a variety of fonts and colours available. Instant Messaging is well supported too, with Google Talk, Skype and Jabber all available.