This article is more than 1 year old
Nokia N900 Linux smartphone
Finnish phone firm fights back
The browser uses technology based on Firefox and it's a good one, with Maemo 5 getting around the lack of pinch-to-zoom by allowing you to zoom by twirling your finger on the screen – clockwise to zoom in, anticlockwise to zoom out, though you can also use the volume rocker. It can handle multiple pages and you can look at them all in a single window, which keeps them running in real time, so you can see a video playing on YouTube while you're checking your other open pages.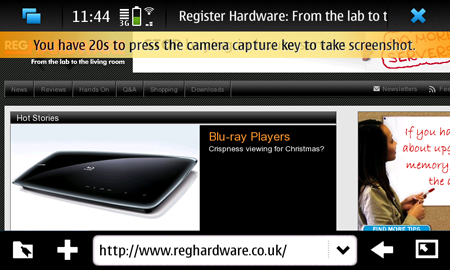 The browser supports Flash, but video streaming had a few hiccoughs
There's support for Flash video but we did encounter a bit of a problem with streaming video, which often seemed to go slow and occasionally break up. This may be due to our using an early model with unfinalised software, but we'd recommend you check this aspect before you buy.
The camera isn't as full-featured as some we've seen from Nokia, but it takes surprisingly good pictures. The Carl Zeiss lens is likely to make the difference here, but our pics looked sharp, with good colour balance and a minimum of purple fringing.
It opens quickly in just under two seconds and while it doesn't have a huge arrange of settings, it does offer macro, action and portrait modes, plus a dual LED flash, though there's no smile detection, timer or multi-shot options.
There are some fairly basic picture editing features allowing you to flip, crop or resize your pics as well as touch up any red eye. You can also geotag your pics using the onboard A-GPS, which can come in handy. Unfortunately, however, there's no Google Maps app, and for location features you're stuck with Nokia's own Ovi Maps, which isn't bad, but lacks Google's extended features.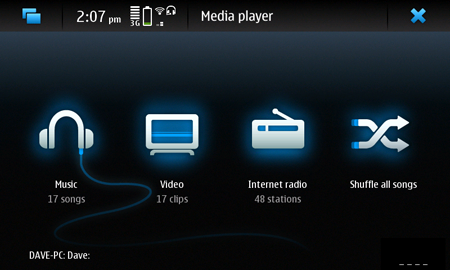 The decent supplied headphones complement the media options
Watching video on the N900 is a delight, with the 800 x 480 screen rendering crisply detailed visuals, and never any hint of a slow-down. It will play H.264, MPEG 4, Xvid, WMV and H.263 formats, plus it comes with a TV lead so you can show off your pics or vids on the bigger screen.