This article is more than 1 year old
CrunchPad gets JooJoo eyeballed
More real than the RegPad, but only just
The manufacturer of the late CrunchPad has revealed the device as it stands. It now goes under the name JooJoo and is ready for pre-ordering, despite the lack of details or launch date.
The device's designer, Fusion Garage, revealed the JooJoo in a video launch. They claim that Michael Arrington, and TechCrunch, have no ownership over the design, having failed to come up with promised cash and contributed nothing to the design beyond a vague set of unrealistic specifications.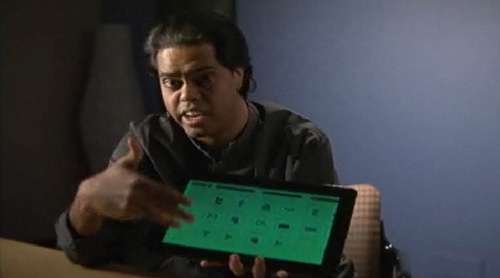 Gizmodo grabbed this screen shot of the launch, apparently the green sheen is an artefact
The CrunchPad was supposed to be the ultimate couch-surfing device: costing around $300 and featuring all the usual must-have features. It came with some pretty renders and had gadget fans slavering, but the reality is rather more mundane, as is often the case.
For a start it's going to cost $500, not $300, with the designer claiming that it couldn't be done for less. Then there's the specification - the JooJoo does have Wi-Fi, but that's it for connectivity, and you don't want to be on the sofa for more than five hours either as that's the battery life. The OS is proprietary too, so the JooJoo will be limited to browser-based applications, with 4GB of local storage for caching.
It does have a 12-inch capacitive-touch screen, and weighs in at just over a kilogram.
Fusion Garage, who were working at the behest of Michael Arrington, claim that the good Mr. Arrington promised to bring in venture capital money to launch the device, but never managed it and forced the company to go it alone.
We can't tell you how well the JooJoo works, as it won't even be available for pre-order until Friday, and if Mr. Arrington is to be believed there's a host of lawsuits headed for Fusion Garage that will see the product delayed until it becomes valueless.
So while it may be more real than the RegPad right now, we still reckon we can launch before them. ®