This article is more than 1 year old
Hubble probes deepest universe
Ancient galaxies shine for the camera
The Hubble Space Telescope has captured "the deepest image of the universe ever taken in near-infrared light", revealing galaxies which formed a mere 600 million years after the Big Bang: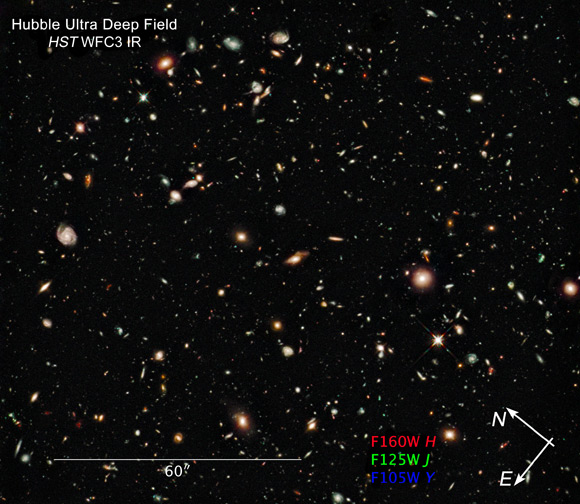 The picture (big version here), showing a region bounded by the constellations Cetus, Columba and Lepus, is courtesy of Hubble's Wide Field Camera 3. It was taken in August this year with a 173,000 second total exposure over four days.
NASA elaborates: "The colours in the image are assigned comparatively short, medium, and long, near-IR wavelengths (blue, 1.05 microns; green, 1.25 microns; red, 1.6 microns). The representation is 'natural', in that blue objects look blue and red objects look red. The faintest objects are about one billionth as bright as can be seen with the naked eye."
NASA describes Hubble's deep-penetration work as "trailblazing a path" for the James Webb Space Telescope - slated for a 2014 launch - which will "look even farther into the universe". ®