iPhone app transforms speech to text
There's a Dragon in my phone!
---
Voice-transcription software has come to the iPhone from the long-time industry leader in speech-to-text software.
Dragon Dictation (App Store link) is from Nuance, the developers of the Dragon NaturallySpeaking line of speech-to-text converters for Windows and the supplier of the recognition engine behind MacSpeech Dictate for the Mac.
You'd be right if you suspect that a device as underpowered as an iPhone wouldn't be able to manage such a compute-intensive task as voice recognition. Dragon Dictation doesn't do the heavy lifting itself - instead, it transmits your spoken words to Nuance, where their servers do the translation and return the text to your iPhone.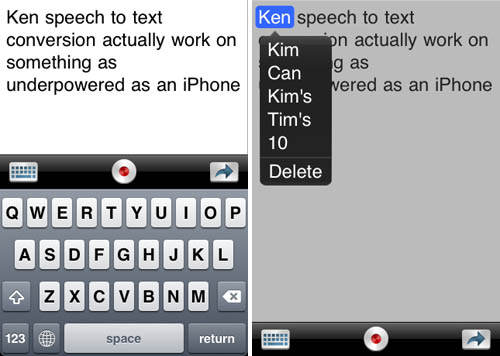 When Dragon Dictation errs, you can correct it with the keyboard or from a pop-up suggestion list
And it's fast. In our brief testing over Wi-Fi, the wait for simple, short messages was essentially imperceptible. We would have liked to have tested it over a 3G network, but since we're in San Francisco, our AT&T service is execrable - the connection in our office is essentially non-existent.
After your words have been turned into text and returned to your phone, you can correct transcription errors either by using the app's pop-up keyboard or by tapping an incorrect word and choosing the correct word from a list of suggested corrections that appears.
Recognition was excellent - although accuracy improved when we spoke more clearly than we do in normal conversation. Text can be sent as an SMS message, transferred to the iPhone's Mail app, or sent to the clipboard and then pasted into any applicable iPhone app.
Dragon Dictation requires iPhone OS 3.1 or later, and is currently free - but according to Nuance that introductory largess is a limited-time offer.
But before you take advantage of that offer, know that Dragon Dictation uploads your contact names from your iPhone's address book, although for no other reason other than "to improve recognition accuracy" - no email addresses, phone numbers, or other info is uploaded, and Nuance claims that the info is stored "in secure data centers according to stringent privacy and security standards."
If that's okay with you, go ahead and add Dragon Dictation to your app pile - the price is certainly right.®