This article is more than 1 year old
Logitech Squeezebox Radio
A wireless of a different sort
Review A year on from testing the Squeezebox Boom wireless music streamer, Logitech has released its little brother into the wild. Called the Squeezebox Radio, the new device is the transistor radio of the Squeezebox range to the Boom's ghetto blaster.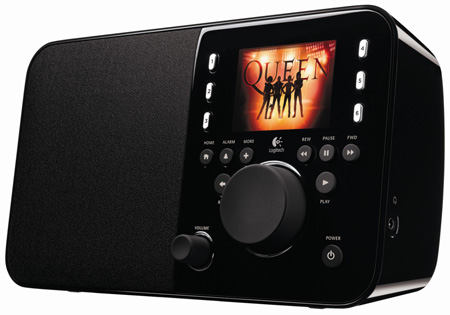 No DAB, no FM: Logitech's Squeezebox Radio
Rocking up in traditional Squeezebox black – the red case is only an option in the US – the 130 x 220 x 85mm Radio is the smallest all-in-one music streamer we have come across. It's one of the best looking too, with Logitech having the ditched the Boom's partly matte finish for a more classy all over deep gloss. Physically, the Radio bears a strong family resemblance to the Boom, albeit one with the right hand speaker hacked off and with rounded corners.
The most obvious external change is the Radio's 2.4in colour screen, which is a major step forward over the Boom's green screen. It's easier on the eye and allows for the display of 'Now Playing' album art and other colour images. The screen also has a handy ambient light detector that dims the screen when the lights go out making it ideal for bedside use.
The Radio's controls will be instantly familiar to anyone who has used a Squeezebox Boom. Carried over are the six Internet radio pre-sets and the soft, rubberised buttons all set around a large turn and push knob. As with the Boom, the big knob is for menu navigation and selection rather than volume control, which still feels just a bit counter-intuitive.
Packaged without a remote control, users have no choice but to make do with the fascia controls, but at least navigating around the menus is a swift and simple affair. Scrolling down a list of several hundred albums took less than 30 seconds.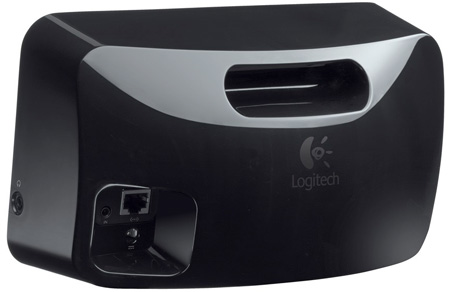 Ethernet is available as an alternative to Wi-Fi
Ports and jacks are limited to a power socket, 3.5mm audio-in for hooking up an MP3 player and an Ethernet port for anyone who wants to plonk their Radio next to their router. Round the back you will find a handle recess, which its far too shallow to be of any use - all you can do is slide the tips of your fingers into it which makes carrying it a highly risky venture.