This article is more than 1 year old
Epson models wearable PlayStation 3
Play games wherever, whenever
Stick "extreme" in front of another word and you have a surefire YouTube hit. Epson hopes to power past such greats as extreme ironing and extreme crocheting with... extreme gaming.
The term has no official definition - yet - but to Epson it means donning a suit fitted with cables, power pack, PlayStation 3 - the slim one, of course - and an Epson projector so that you can play videogames wherever you want.
Epson has released a video of its own extreme gamer furiously tapping buttons in such weird spots as London's Carnaby Street and the side of a pub wall, and while engaging in activities like abseiling down a high rise building and dancing away during a late-night disco session.
Can't see the video? Then download Flash Player from Adobe.com
Our favourite extreme gaming sequence: Epson's nerd hovering above a giant fan.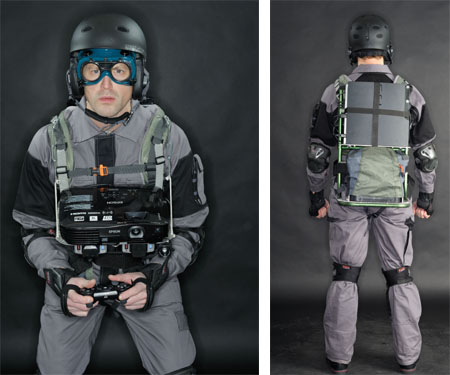 The geek wears an Epson projector on his front, with slimline PS3 and powerpack on his rear
The sport - if you can call it that - probably won't make the 2012 Olympics. Though it does illustrate just how far Epson will go to promote its projectors. It was the EH-TW450, by the way. ®