The Royal Mail's Parcelforce website is upsetting some Windows 7 fans, because the service doesn't support Microsoft's latest operating system.
One customer told us that the site refuses to let him proceed with a payment on Parcelforce.com because Windows 7 "failed to meet the necessary requirements for completing a transaction".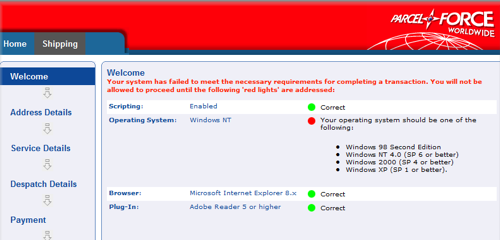 I'm Parcelforce, and excluding Windows 7 support was my idea
"This is a massive disappointment to the huge number of people who might want to use Parcelforce's website (and let's face it... I'm not grumbling about some unheard of operating system... this is W7 being refuted by a nation's Post Office!)" said Reg reader Frank.
The Register has noted similar incompatibility issues in the past that customers have grumbled about.
In February, we reported on how Blighty's national parcel service had no online facility for Linux lovers because its website only supports Microsoft's Windows 2000 and XP operating systems.
But despite that, Royal Mail still hasn't got its act together. Its Parcelforce website shuns not just Linux users, but also Windows Vista and Windows 7 peeps too.
We asked Royal Mail to tell us when Parcelforce.com planned to include support for Vista, Windows 7 and Linux platforms. The state-owned company hadn't got back to us at time of writing.
Earlier this year, Royal Mail advised would-be customers who were running Linux-based computers to pick up the phone and place an order via that method instead.
Presumably the parcel carrier will be dishing out the same advice to the "I'm a PC" brigade. ®
Similar topics