This article is more than 1 year old
US bests UK in iTunes Xmas giftiness
Jobs bless us, every one!
Santa Jobs has opened his big bag of iTunes toys and come up with an album of Christmas goodies for good little US girls and fanbois.
Last week iTunes (UK) announced that it would gift EuroTuners with a dozen tunes, music videos, apps, films, and TV episodes - one for each of the 12 days of Christmas - the catch being that you'd need to supply iTunes (UK) with your email address, then download one item per day beginning December 26.
Today comes word that Cupertino is being more generous to its US faithful. The iTunes Holiday Sampler contains 20 songs, is available today, and requires no email address sharing.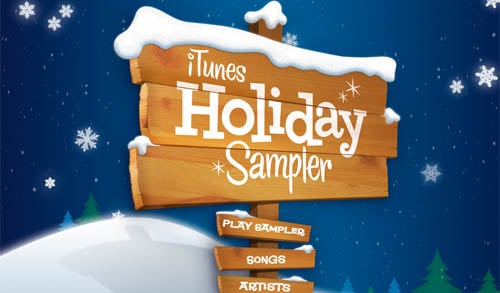 The new iTunes LP format provides, in Apple's words, "the visual experience of the record album"
In both cases, however, Apple decides what will float your Yule boat - and in the US case, the selection of tuneful stocking-stuffers is an eclectic one, indeed:
O Come All Ye Faithful - Amy Grant
The First Noel - David Archuleta
Silent Night - Sarah McLachlan
Carol of the Bells/Jingle Bells - Barry Manilow
It Snowed - Meaghan Smith
Above the Northern Lights - Mannheim Steamroller
Baby, It's Cold Outside - Lady Antebellum
We Three Kings - Toby Keith
God Rest Ye Merry Gentlemen - Rascal Flatts
Silent Night - Wynonna Judd
Twelve Days of Christmas - Mexicani Marimba Band
We Wish You a Merry Christmas - Weezer
A Snowflake Fell (And It Felt Like a Kiss) - Glasvegas
Another Christmas Song - Stephen Colbert
Greensleeves - Vince Guaraldi Trio
Dream a Dream - Charlotte Church
The Nutcracker, Dance of the Reed Pipes - Kirov Orchestra & Valery Gergiev
Angels We Have Heard On High - Aretha Franklin
O Holy Night - Musiq Soulchild
Auld Lange Syne - The Lonesome Travelers
But as sure as there's an "X" in Christmas, Cupertino has pecuniary purpose behind its munificence. The iTunes Holiday Sampler is delivered as an iTunes LP, the new song-grouping format instituted in iTunes 9. A Christmas giveaway is just the thing to plug this buy-a-bunch song-supplying system.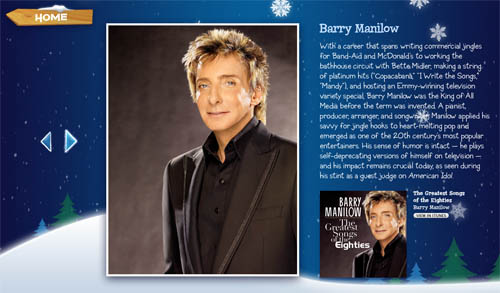 The always-elegant Mr. Manilow wishes you Christmas cheer
And should you find yourself enthralled by, for example, Barry Manilow's "Jingle Bells" song stylings, his iTunes LP Artists page offers you one-click access to his must-have album, The Greatest Songs of the Eighties.
Eat your heart out, iTunes (UK) users. ®