This article is more than 1 year old
Canon Powershot S90
DSLR price and pretensions
Review The S90 marks the re-introduction of Canon's acclaimed PowerShot S series. Aimed at the serious amateur or professional photographer, it combines full manual capability with the simple design of a point-and-shoot, all in a pocket size camera with near-DSLR performance. Unsurprisingly, it comes with the hefty price tag of £449.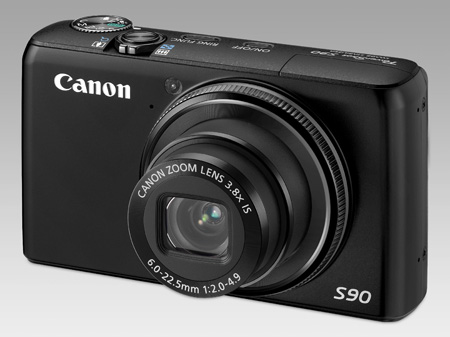 Canon's Powershot S90 marks the return of the S-series
To justify its price the S90 comes with an array of professional features packed into its small and stylish case. The 10Mp sensor also features on its bigger brother, the G11 and utilises Canon's latest DIGIC 4 processor with its Dual Anti-Noise System that allows low light shooting without increased noise. Perhaps more surprising is that currently, the PowerShot S90 is the smallest compact camera to shoot in Raw format. With no optical viewfinder the S90 relies on a 3in LCD display comprised of 461,000 dots.
First impressions are a sleek and elegant compact, but the handling was not entirely satisfying. The matt black finish of the case gives a sense of solidity while the sparse body design with its hidden pop out flash has an odd retro feel to it. At 100 x 58.4 x 30.9mm and 175g, the camera is small and light, but Canon seems to have sacrificed function in favour form.
The lack of any kind of grip is, for any keen photographer, a bit of an obstacle to a smooth shooting experience. Canon has also changed the traditional position and design of the shutter button making pressing the correct button somehow less immediate. After some practice you get used to the new layout but, initially, attempts to take photos by pressing the Program Dial instead, was a common occurrence.
In addition there is not a dedicated button to activate or deactivate the flash, so this is done through the selection of the appropriate settings, and it's always a bit of surprise when it pops up, especially as the flash is positioned in line with the natural grip of the left forefinger. Unless you pay specific attention to the left hand position, it's all too easy to obstruct the flash.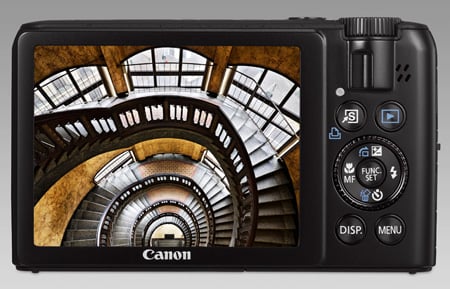 With no traditional viewfinder, the sharp, bright LCD panel handles image framing
One of the best features of this new baby is the introduction of a Control Ring, a rotary collar at the base of the lens barrel programmed to adjust the settings of various functions according to the mode you are in or the function you assign to it. For example, in Auto mode the ring allows you to switch between focal lengths, acting almost as a manual zoom, while used in Program mode it becomes a manual focusing dial.