This article is more than 1 year old
Canon Powershot S90
DSLR price and pretensions
You can program the ring to adjust focus, shutter speed, aperture, exposure compensation, white balance or ISO by activating the Ring Function button located on the top plate of the camera. The feel of the dial is reminiscent of the manual shutter ring of an analogue 35 mm, with the same clicking and intuitive operation, adding a distinct nostalgic mood that will appeal to all old school film users.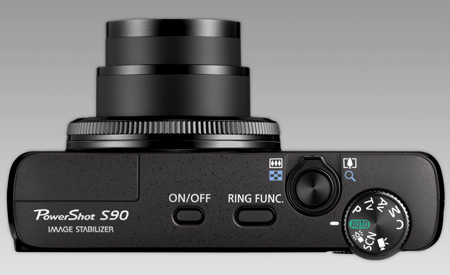 The Control Ring can have different functions assigned to it including focus
The Control Ring also works in combination with a Control Dial at the back of the camera to quickly change settings. With the latter, its behaviour is markedly different from the smooth and precise action of the Ring, and has a much looser motion and moves far too fast for precision, often resulting in unwanted changes.
In use, the Control Dial is extremely efficient in Scene Mode where allows you to swiftly change scene type with one quick finger move. The combination of these selector dials together with a customisable Shortcut (S) button makes for some very intelligent and fast control of almost all the camera settings without the need to access menus and submenus.
The S90 mounts an impressively sharp and bright lens with an f/2.0-4.9 aperture range and an optically stabilized 3.8x zoom covering the classic 28-105mm range with very little optical distortion. The PowerShot S90 also has a wealth of shooting modes. In brief these are: Auto, Program, Aperture priority, Shutter priority, Manual, Scene, Movie, Low Light. There are over 20 speciality scene modes too, covering virtually any lighting or subject condition.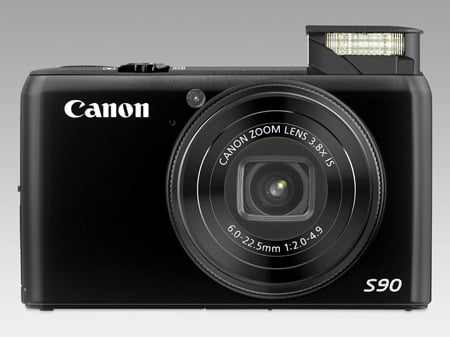 The pop-up flash has is handy, but could be better implemented
For the snapshot enthusiast Canon has included a Smart Auto mode with Scene Detection Technology. This intelligent automatic application works by evaluating the shooting conditions – including recognising moving objects and locking exposure and focus on target – and applying the most suitable settings for the situation.