This article is more than 1 year old
Canon Powershot S90
DSLR price and pretensions
The Scene Recognition works quite well in most environments, producing spot-on exposures when detecting the correct scene. However, in testing the camera occasionally misinterpreted shooting conditions and applied settings for the wrong scene.

The Control Ring can work with the Control Dial, each changing different functions such as shutter and aperture
Performing well in most conditions was Face Recognition, as you can actually choose face you want to focus on with the camera automatically adjusting the white balance and the exposure – particularly useful to avoid washout flash portraits. Despite Canon's claim that the feature is able to recognize up to 35 faces per frame at almost all angles, its performance is not always efficient in profiles. Blink Detection is included too and adds to the sophisticated and accurate portrait technology offered by such a small camera.
The real crowd pleaser though, is the S90's low light capabilities. There's an incredible amount of detail preserved in the nighttime shots. Apart from the brighter lens, the optical Image Stabiliser (IS) works wonders in reducing camera shake and image blur. This, coupled with the noise reduction processing, delivers the best available light performance we've seen see in a compact camera.
If you want to be truly nocturnal, the Low Light shooting mode stretches the sensitivity to a whopping ISO 12800 while dropping the resolution to 2.5Mp – a clever compromise, if high resolution is not an issue.
At the other extreme, Intelligent Contrast – available in most recent Canon models – automatically improves detail in dark areas without affecting correctly exposed areas in high contrast situations. Among its more professional features advanced options like Exposure and Focus bracketing. Added to the picture the user takes in manual mode are two more shots taken with slightly different camera settings to compensate for shooting mistakes in the original.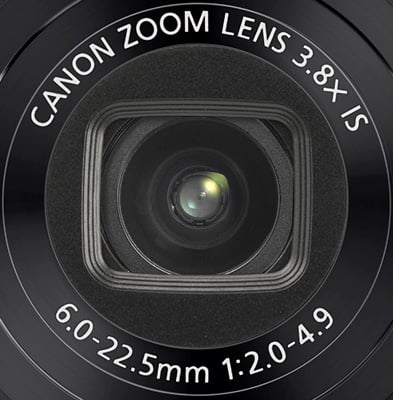 While not the longest of zoom lenses, it's wide-angle f/2 aperture is ideal in low light
Focus bracketing is useful in situations with limited depth of field, such as macro photography, where one may want to make a series of exposures with different positions of the focal plane and then choose the one in which the largest or more significant portion of the subject is in focus.