Radio Society tries to beat back powerline networks
Appeals for £75K to challenge Ofcom
The Radio Society of Great Britain has set up a Spectrum Defence Fund to challenge Ofcom's view of powerline networking.
The RSGB reckons it's going to cost £75,000 to fund a Judicial Review, which is what's needed to kick Ofcom into reconsidering powerline devices. Donations are invited though the RSGB site, with any excess funds being held over for the next time Ofcom leaves a loophole.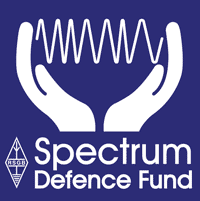 They've got a logo and everything!
Powerline networking involves pushing Ethernet signals over mains wiring. The problem is that the household mains acts as an antenna sending out unwanted radio signals. The RSGB reckons that some devices aren't being properly certified, and that even those with certification generate an unacceptable level of interference:
"Now is the time to stand up and be counted and make it known that we, as a community, are not prepared to accept any level of interference from noncompliant devices."
The UK's regulator, Ofcom, has repeatedly belittled the problem - claiming that few complaints have been received and pointing out that other users in the same frequency range aren't complaining. But those other users are long-range oceanic communications and the MOD, so it's likely that neither of them hangs around near users of powerline networking, and the number of complaints is hardly relevant if the law is being broken.
Raising £75,000 won't be easy, especially for a problem that directly affects such a small number of people, but the RSGB reckons that nothing else will make Ofcom take notice. ®