Personal data belonging to nearly 40 million UK motorists is likely to be abused by foreign officials under new automatic access powers, according to a restricted report.
Drivers' details such as name, address, motoring convictions and some medical information will be available to more than two dozen European countries around the clock under the Prüm Convention.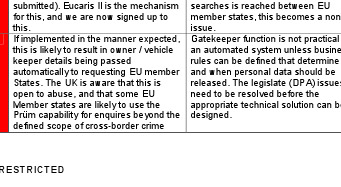 Ministers have emphasised the data-sharing powers are "fundamental to our ability to tackle serious crime, terrorism and illegal immigration", but a report commissioned by the National Policing Improvement Agency (NPIA) admits access to the DVLA will be uncontrolled.
"The UK is aware that this is open to abuse, and that some EU member states are likely to use the Prüm capability for inquiries beyond the defined scope of cross-border crime and counter-terrorism," it says.
The "Issues and Risks" report, obtained by The Register using Freedom of Information laws, raises concerns that the DVLA database will be accessed directly by foreign officials for minor motoring offences and parking infringements, and that data will be sold to commercial interests such as marketing firms and private investigators.
Implementing a "gatekeeper" function to block access to personal data for trivial or commercial reasons is "not practical", the NPIA concludes.
The NPIA, a technology quango linked to the Home Office, is currently implementing the Prüm Convention, which the government signed in June 2007. At first it will grant agencies in Austria, Belgium, France, Germany, Luxembourg, the Netherlands and Spain access to the DVLA database. Eventually the whole of the EU is expected to join, including former Eastern bloc states such as Bulgaria, where official corruption is widespread.
The UK is obliged to complete its implementation of the Convention, which also mandates more controlled access to DNA and fingerprint records, by September 2011. The UK will gain access to vehicle databases in other countries, but the NPIA report said authorities have not yet decided how it will be used or regulated.
News that police and the government believe motorists' personal data will be abused undermines past statements on the DVLA issued by the Information Commissioner's Office (ICO).
Responding to controversies over domestic abuse of the database in 2007, the privacy watchdog said information should only be shared when there is "reasonable cause" to do so. Under the Prüm Convention, however, the DVLA will have no powers to apply such a test when foreign officials trawl its records.
Dominic Grieve, the shadow justice minister, said the NPIA report showed ministers had misled the public when they signed the Convention. ®