Following Google's recent confirmation that it will sell a branded Android smartphone, the upcoming device's possible specifications and launch date have emerged.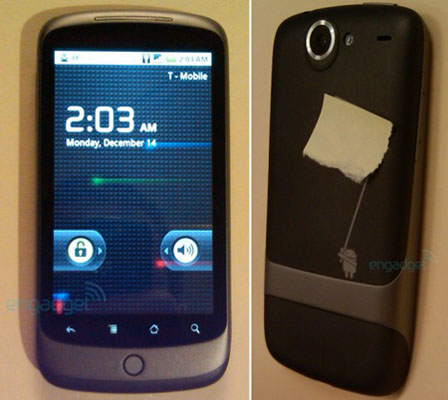 Google's Nexus One handset?
Source: Engadget
A source on website These Are The Droids (TATD) has claimed that by rifling through "library files and various other system files" in the recently leaked Android 2.1 Nexus One - widely thought to be the phone's official name - ROM, references to "Snapdragon Specific Libraries" and related Qualcomm files were discovered.
The implication is that Nexus One will run a Snapdragon processor, such as the 1GHz version inside HTC's upcoming Hero 2 smartphone. HTC, let's not forget, is the hardware manufacturer behind Nexus One.
Nexus One will also feature distance proximity sensor with ambient light sensor – if you believe the source's discovery of a Capella CM3602 reference within the phone's Android 2.1 ROM. Mentions of a Bosch BMA150 accelerometer and magnetic compass were also supposedly uncovered.
Broadcom's 802.11n Wi-Fi radio - featuring Bluetooth 2.1 and FM signal support – and reference to a noise-cancelling chip, the latter within "libaudio.so", were also supposedly found by the website's source.
And it has emerged that the Nexus One is out in January 2010. ®
Similar topics