PS3 hardware still losing Sony money, claims analyst
Does my BoM look big in this?
---
Sony still makes a loss on every PlayStation 3 it sells, but the console's latest, slimline redesign has brought the electronics giant closer to that crucial breakeven point, an analysis by market watcher iSuppli has concluded.
The first-generation PS3 was sold at $49.72 (£30.56/€34.17) less than its manufacturing and materials cost, iSuppli said. After a teardown of the new 120GB slimline PS3, iSuppli determined that the machine sells for $37.27 less than its materials and manufacturing cost.
Both figures also come in before the cost of promoting the product and shipping units around the world to sell. It also ignores subsidies on the price of games.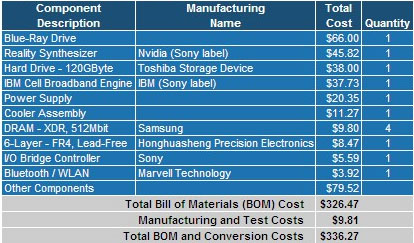 The 120GB slimline PS3's Bill of Materials teardown
"The PS3 probably is already at or near the tipping point for profitability," Andrew Rassweiler, Director and Principal Analyst of teardown services for iSuppli, said.
Sony's total Bill of Materials and testing cost for the 120GB slimline PS3 was found to be $336.27 (£206.70/€231.15). The console retails for around $299 in North America and £245 in the UK.
Exactly how has Sony managed to cut production costs for the new PS3? Mainly by using less expensive semiconductors and fewer components, iSuppli concluded.
These "new" chips have also reduced the slimline PS3's power demand, iSuppli added, allowing Sony to pair the machine with a 220W power supply in place of the first-generation PS3's 400W PSU.
The latest model's most expensive chip is the Nvidia-made Reality Synthesizer graphics chip, which iSuppli estimates to be priced at $45.82. The console's Cell chip heart costs Sony $37.73 – 19 per cent cheaper than the one in the previous PS3. ®