This article is more than 1 year old
Intel details fresh desktop, mobile 'Cores'
New Year's coming-out party
Surprising no one, Intel announced on Thursday that it would be rounding out its Core i3/5/7 mobile and desktop processor lines on January 7 at the upcoming Consumer Electronic Show (CES) in Las Vegas.
Not that there's anything wrong with being unsurprising - after bumps such as the recent Larrabee GPU/CPU shutdown, a little Chipzillian predictability can be comforting.
The early-2010 appearance of the full Nehalem-based Core line, including the Arrandale mobile and Clarkdale desktop parts - has been expected for quite some time. The Reg, for example, noted back in July that "a big batch" of Core i5 processors would be coming in early 2010, to be joined by little brother Core i3.
A total of 17 Core i5 and Core i3 parts will be revealed at CES in a variety of speeds, joining their older and more powerful Core i7 sibling to complete the Core i[insert-odd-number-here] family.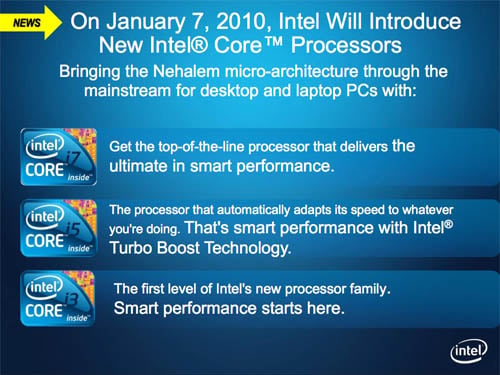 As Intel told a gathering of reporters on Thursday, "Meet the family"
In addition to the new processor/graphics combos, ten other platform and wireless chips will join the coming-out party. Speaking with reporters today in San Francisco, Intel director of notebook marketing Uday Marty noted that the broad range of Core offerings and support chips represents "the most we've offered in terms of a price stack at introduction in Intel history."
In other words, the Core line-up is aiming high, it's aiming low, and it's aiming in the middle.
Aside from speeds and core counts the i5 and i3 lines will have one major difference. The i5 will include what the company dubs Intel Turbo Boost Technology. The i3 doesn't.
Turbo Boost Technology senses when a core's standard clock speed can be or needs to be boosted beyond its rated spec and gives it a brief goose. When Intel first talked about Turbo Boost some time back, it emphasized that the technology would be used to shut down cores when an app wasn't sufficiently parallelized to take advantage of them, then use the leftover power and thermal headroom to juice the cores that actually had something to do.
When talking with reporters today, however, Uday and Intel VP and director of PC client business Steven Smith put the emphasis not on poorly or archaically designed apps, but instead on providing a performance boost anytime an app needs it. Turbo Boost doesn't need to shut down a core to work its magic, Uday said - if there's enough electrical and thermal capital available at any given moment, Turbo Boost can spend it on each core.
In each new Core i5 and i3 package will reside a 32nm processor die and a 45nm integrated graphics die. The marketing mojo of Intel's integrated graphics, by the way, will also be upgraded - the new name is Intel HD Graphics, replacing the far more humdrum Intel GMA of yesteryear.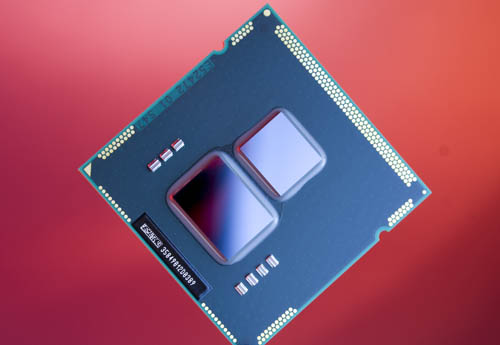 One package, two dies: a 32nm CPU (top) and a 45nm GPU, here shown in the Clarkdale desktop part
Uday promised better performance from the new HD Graphics. "We're not disclosing specific performance numbers on the integrated graphics here...we'll do that at CES," he said, but quickly added: "There will be a big jump from our prior generation." Although, to be honest, a big jump from "exceptionally sluggish" might launch you all the way to "slow."
One upgrade from that much-maligned "prior generation" is the ability to handle two simultaneous HD video streams in hardware, enabling, say, HD picture-in-picture. Previous Intel integrated graphics used a hardware-software combo to accomplish this trick, which both gave poorer performance and taxed the CPU. Intel HD Graphics will also support dual monitor HDMI/DisplayPort setups.
And although integrated graphics are one of the areas of concern in the US Federal Trade Commission suit against Intel filed on Wednesday, the execs at today's press conference declined to comment on whether the new chips run afoul of the FTC's accusations.
Two 32nm Intel fabs are currently cranking out the chips in volume production, and Uday noted that Intel has already attracted 400 customers for its new processors. "Four hundred - that's a huge number," he enthused - but when asked to name representative OEMs, he declined, saying only that more would be revealed at CES. ®